We have just passed half way through the year, with June already disappearing into the distance. I'm about to go away on a fortnights holiday. Like many people, I haven't been able to get away for three years now and it's been even longer since I've had more than a week away. So it's a good time to press the reset button and take a long break from everything- business and hobby.
Just before I jet off to a cooler climate (Mexico isn't quite as warm as the UK at the moment!), I thought that I would do a quick round up of some of the projects that I have been working on and give a 'halfway score' on just how much I have painted so far this year. So, in no particular order here are some of the models that I have completed recently that haven't made the blog.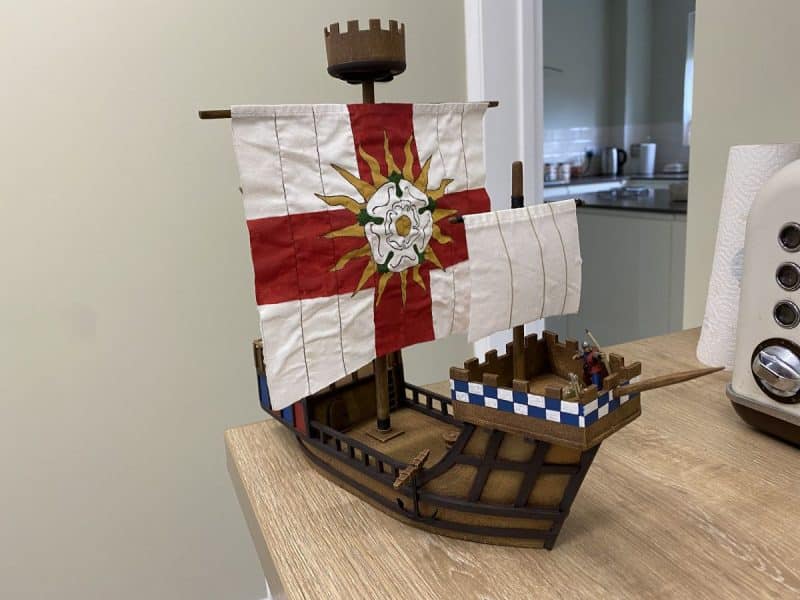 The biggest project that I have been working on is a scratch built Great ship, based roughly on King Henry Vths Gracedieu. Quite why I haven't written about this project escapes me. I think that for a few weeks it just totally absorbed my attention. I was too busy modelling and researching to write the blog! Here's a few pictures of her under construction and I will do an article with a bit more detail in the future.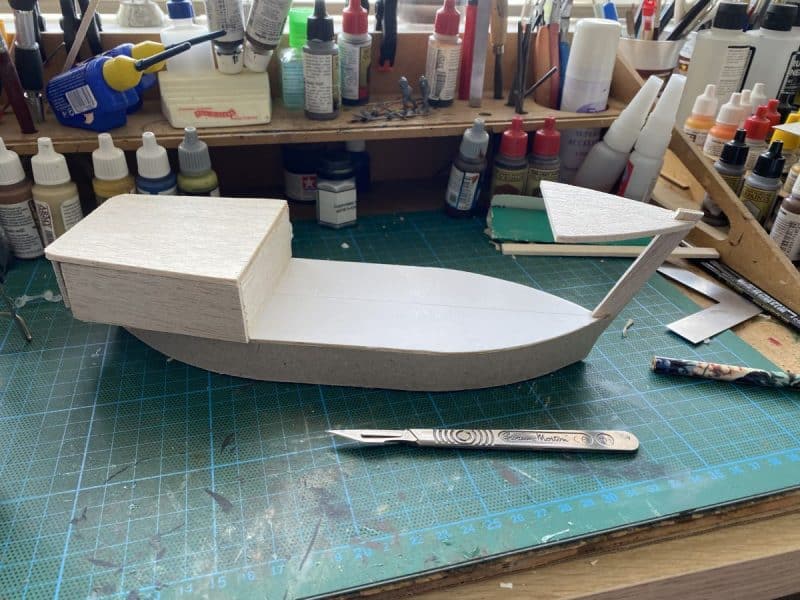 The great ship was built for a demo game of 'Boat Hooks' at Partizan in Newark. Here is a picture of just some of the action.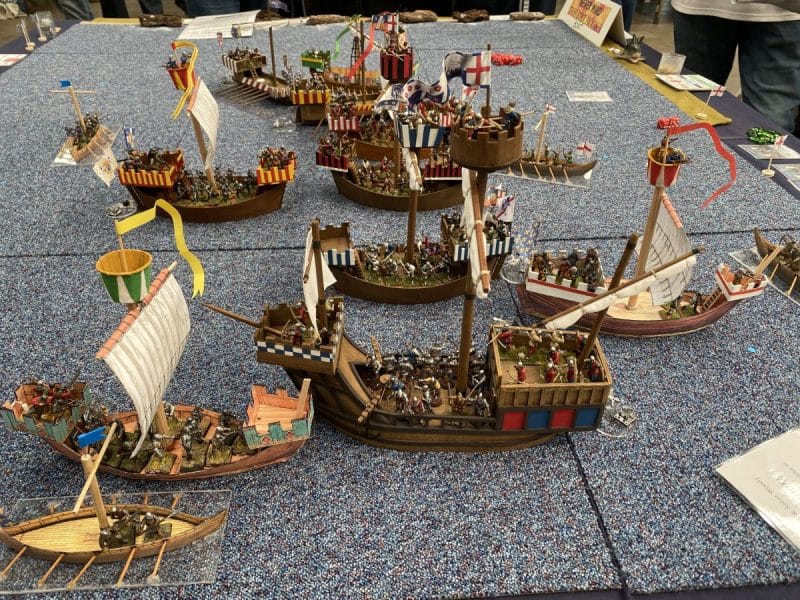 Talking of Partizan, I picked up the free miniature of Stephen Le Blois and he has been painted and now joins my collection of these miniatures. I dont have all of the Partizan figures but I have resolved now that when ever I pick one of the show figures up, I will get it painted rather than chucking it into the lead pile!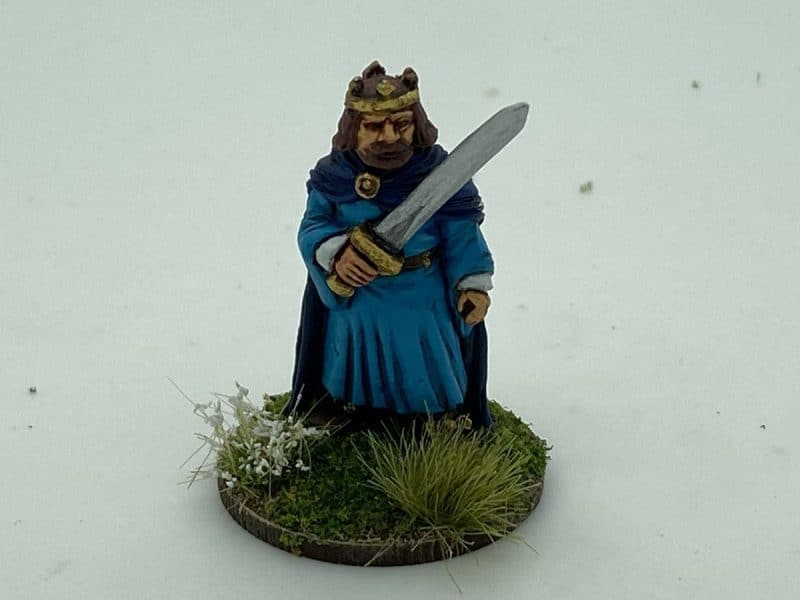 Continuing with the Partizan theme, I committed to ensuring that what ever I buy at a wargames show, I will paint it before the next show. I have just about stuck to my commitment by finishing a nice Perry Miniature wicker wagon that I had bought back in Octobers Partizan 2. I am building a nice collection of the Perry Wagons and I have a reasonable baggage train now.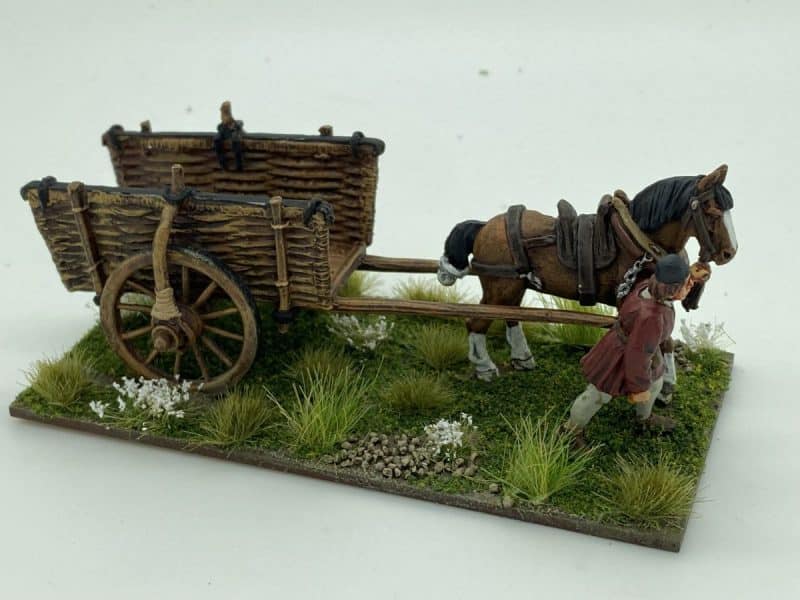 As reported in my previous blog, I've also now completed my Irish Kern that were also bought at Partizan. This almost completes my Irish Army for now.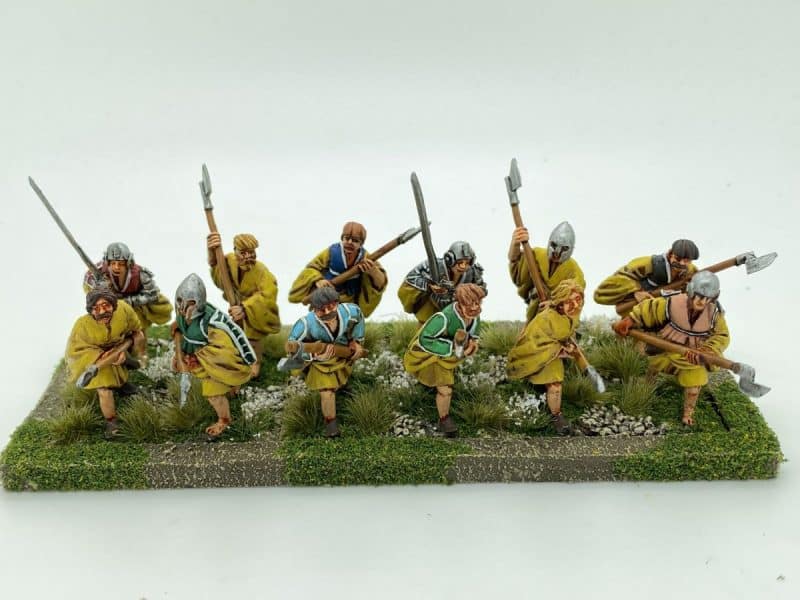 Changing the subject, I have also managed to make a bit of progress with my LOTR project. I am just about to finish basing twelve orcs from issue 24 of the Magazine.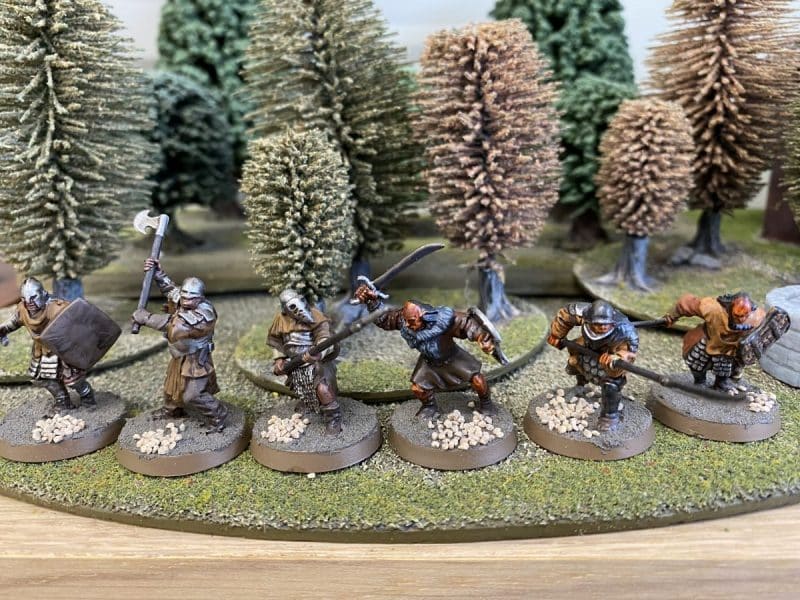 I must confess that I didn't enjoy painting these figures. The molding of detail is a bit 'soft' to say the least but thanks to a good wash with Army painter strong tone ink, they look OK!
My gaming has been curtailed just recently. I have been busy with family and social events as have my gaming buddies, Pete and Andy, so the opportunity to meet has been limited. Wargaming tends to be a winter activity! However, one game that we did play caught my imagination. It was a refight of Islandawanda. The troops are actually made from Hair Curlers by Andy Callan! I dont think that I will be going down that route but I am always impressed by such ingenuity! The game was good fun as well!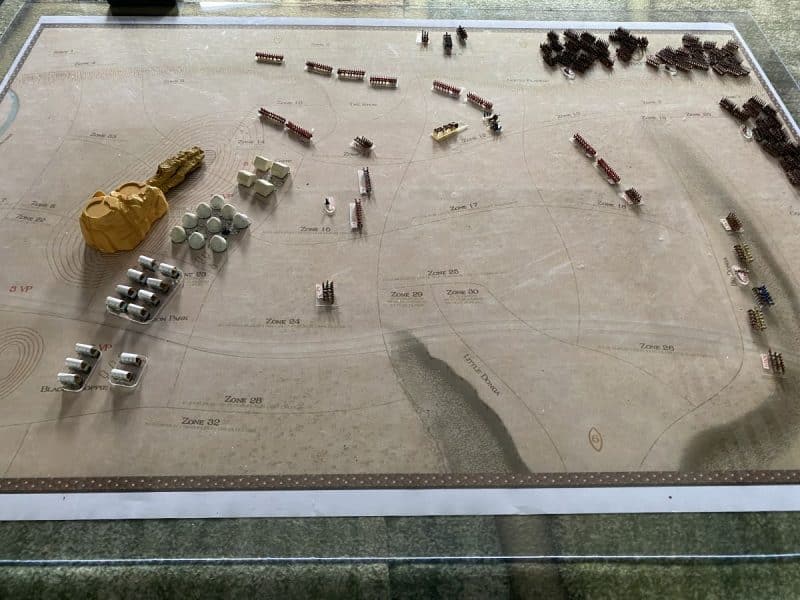 Well that is just a flavour of some of the projects that have gone across my work bench. I forgot to mention that as well as building the great ship, I made and painted the crew – another 20 or so figures. Which brings me to my total for the year so far:
152 Infantry figures;
8 Personalities
5 Medieval ships
1 Bren carrier
1 Deezee Elasmotherium
1 cart and horse
Lets hope that the rest of the year is as productive once I have re charged my batteries!
THE COMMERCIAL BIT
I hope that you all enjoy your hobby as much as I do – our web site will have much of what you need! Click here to see our shop but remember that I am away until the end of July!
We also have a category devoted to Never Mind the Bill Hooks:
To see our range of Naval accessories, click here:
To see our range of glues, click here:
You can find all the Vallejo Model colour paints here. If you don't want to browse, just enter the paint number into the shop search bar;
Happy Modelling!