Having finished painting the figures it was time to get on with the basing. This part of the project can be as important as the actual painting, the mantra being concentrate on faces, bases & flags for the best results! The main purpose is that as well as finishing the individual figures, you can give the whole unit a cohesive look by ensuring that they are consistently based. As I have previously mentioned, I wanted these troops to look as though they were fighting in the bush, so I will add a bit more vegetation than my usual basing.
The first job is to paint the sand on the bases. I used the same colour as my gaming table, which is actually an emulsion from B&Q called delhi bazaar. It might seem a bit unusual, but the advantage is that buying a tin of emulsion means that you have plenty of paint at a very good price! Ideal for basing & terrain work. Once the base coat had dried, I lightened it with Vallejo off white and dry brushed the bases to bring out the texture. Vallejo and emulsion mix suprisingly well! I then gave the bases another dry brush with an even lighter mix to get the effect below.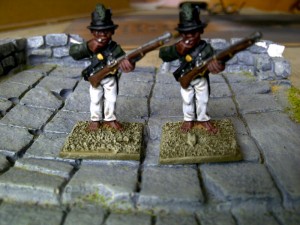 Once the paint was dry, it was time to add the vegetation! I used some plastic plants that I had in my spares box & cut them down to fit onto the bases. To ensure that they stayed fixed, I drilled the bases & used Expo super glue. I also used Army painter jungle grass tufts and for a bit of colour, the flowered fields tufts.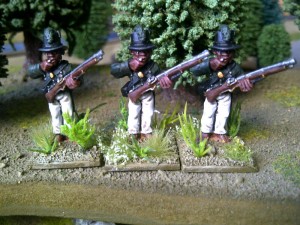 At this point, I felt that I had finished, but looking at the picture, I decide that the bases just need something else, so I added a few dabs of Flowered Field Static Grass and then finished off by edging the bases with Vallejo Chocholate Brown 872.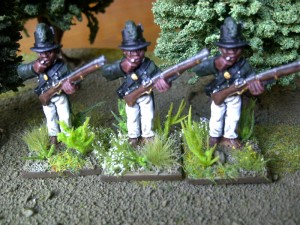 So that's finished my first unit – next up, the Chasseurs Saint Domique!
The items used in this article:
Trent Miniatures Chasseurs de Irios
The dehli Bazaar emulsion is available from B&Q stores in half litre tins. If you would like some of the plastic plants, I have plenty and will be happy to include a few FOC when you order anything from the Trent Carribean range, just put a note with your order.