I've just received the latest releases from Airfix and they reminded me of how long I've been making these kits….
My first ever model was of course an Airfix Kit. Airfix were the brand leaders and in the 'olden days', as my kids would call them, Airfix kits came in a poly bag with a stapled header. My first kit was the Golden Hind, Sir Francis Drakes' famous ship. I remember it well, as I was traumatised because I made a bit of a mess of building it and I managed to glue the Masts in the wrong order. Still it taught me a lesson and from then on I made sure that I read the instructions first. Yes, in those days you had to read the instructions, not follow a pictogram. The first first line of the instructions was 'Locate and Cement…' To be fair the pictograms in todays kits are a bit easier to follow but with written instructions you got to learn what each part of the kit was, so I know what a fuselage is and where the cockpit is and so on. Oh! and cement was the glue, not readymix, in case you were wondering.
So back to Airfix and the new releases. I've just got sight of the new 1/76th scale Matilda 'Hedgehog' Tank and the WW1 Male tank. To be fair the WW1 male is a re tooling of an old kit (I made it years ago) but as far as I remember, the Matilda is brand new. So here's a look at the New box art for both kits. They are available now from my ebay shop. If you would like to see more, just follow the link.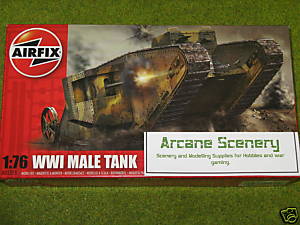 If you're feeling a bit nostalgic about Airfix kits of the past, then I also recommend that you have a look at the latest book by Arthur Ward. The Title is ' The Boy's Book Airfix ' and the subtitle ' who says you ever have to grow up? ' says it all for me.
Ah well, enough of this blogging, must get back to kit bashing!