It's been one of those weeks when life has got in the way of my hobby! So I haven't been able to spend as much time as I would like to have done with my various painting projects. The result is that nothing is actually been finished although things have moved on. One of the benefits of having a dedicated hobby area means that if I have just a spare five minutes, I can do a little bit here and there – add some static grass to a base, undercoat a figure even slap some paint on!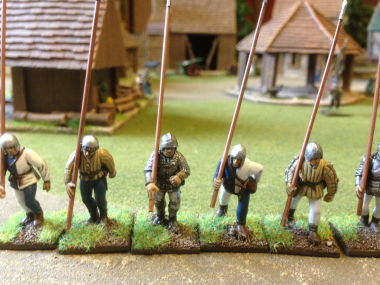 So the six Pike men for my Wars of The Roses army are very close to being finished, just a bit of extra detail needed for the bases – a few tufts & flowers! the plan is to have at least one unit of 12 pike men for my army, probably two, but as the next Lion Rampant Day is not until September there is no rush to complete the unit. I have a box of the plastic Perry Mercenaries and the plan is to make two blocks of Pikes, a small unit of mercenary Crossbow men and the remainder as hand gunners.
I also started on my Prussian Landwehr Cavalry. There will be 12 in the unit and they are all prepared & undercoated and I am painting the horse in batches of threes. Here the first batch nearly complete. The difficulty I have had with this unit has been trying to find details of the uniform. The figures are from foundry and whilst they are very nice, they seem to have different head gear to my Mont St Jean Reference: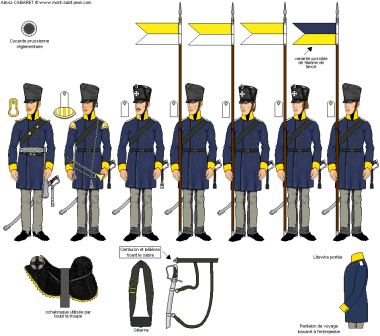 Just to add to my confusion the detail on the sheepskin saddle cloth is showing as a Yellow trim ( makes sense if they are Silesian) but other pictures and references give the colour as Red regardless. In fact the reference material for Landwehr Cavalry is thin and as usual contradictory. I think that I will have to overcome any 'button counting' tendencies and go for what I think looks best – in this case yellow trim to match the yellow facings! So here is the progress so far: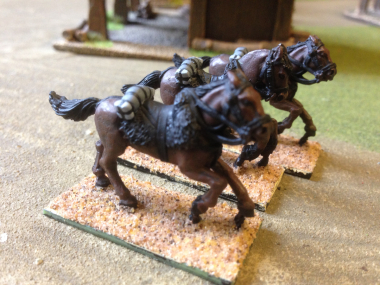 As you can see, still plenty to do!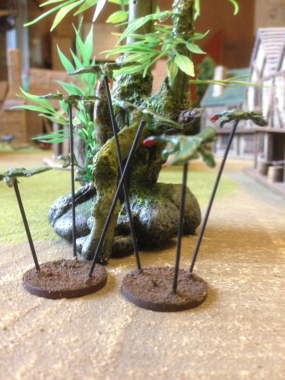 Finally, the Pterodactyls are nearly completed! This is all part of my project to get one of each of the DeeZee codes done. The pterodactyls are certainly straight forward to paint but detailing them is a challenge that is beyond my eyesight & patience these days! I just gave them a spray on top with dark green & a spray underneath with light green. Then a quick couple of dry brushes to try & bring out the detail, followed by a brown wash. They are mounted on a 25mm MDF base using thin wire. The final stage is to detail the bases and I may have a go at painting the eyes……They are only 15mm or so wingspan so no one is ever going to look that closely but as a group of 10 they look quite impressive and will add chacter to a model.