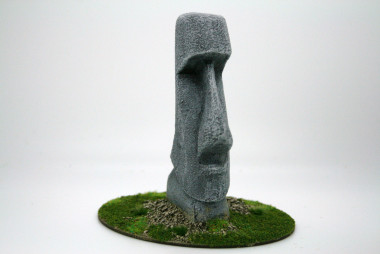 No, it's not the start of an Arcane Scenery Haka, but the first in a series of terrain pieces that are being designed for us in conjunction with Nick and Tasha, two very talented people that make up the N-FX team. N-FX have produced special effects for the TV & Film industry as well as producing custom built costumes for the Cosplay community. You can see some of their recent projects here:
https://www.facebook.com/nfx.gds
We are working with them to produce a series of terrain pieces that will compliment our DeeZee range of animals and provide interesting and different subjects for dioramas and war games scenery.
The first piece out of the moulds was this Moai, or as most people will know them as, Easter Island heads! The model isn't designed to be a scale replica of a Moai – more of a nod in their direction… If you haven't come across these before, there is some terrific background on Wikipedia. We thought that they would be superb background pieces in many a setting. Once I had one to 'play with' I wanted to get it painted and based.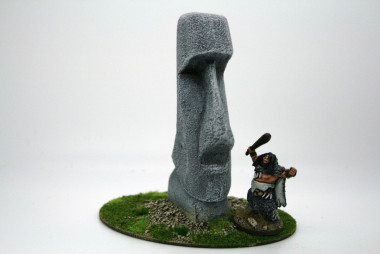 It's a very quick and straight forward paint job. Simply spray with a black primer and then when dry, use a standard dry brush technique with various shades of grey up to nearly white to bring out the texture. I mounted the Moai on the MDF base using Vallejo Desert Sand texture. It was then just a case of painting to my usual method and adding some green scatter, static grass & tufts to finish. The plan is to do a step by step video together with N-FX in future so watch this blog!
In the meantime, I've just placed a couple of Lucid Eye figures on the base to how effective they will look. It was great fun painting the Moai – back to Napoleonics in my next blog!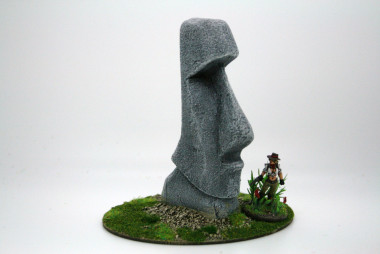 If you would like you own moai, please visit the Arcane Scenery shop or just click here: