No, it's not a headline from the Sun Newspaper regarding a scandal in the Conservative party but the first piece of scenery that I have made for Test of Honour. A very straight forward and easy piece to finish, it is the simple Tori Temple Gate from the Sarissa Precision range.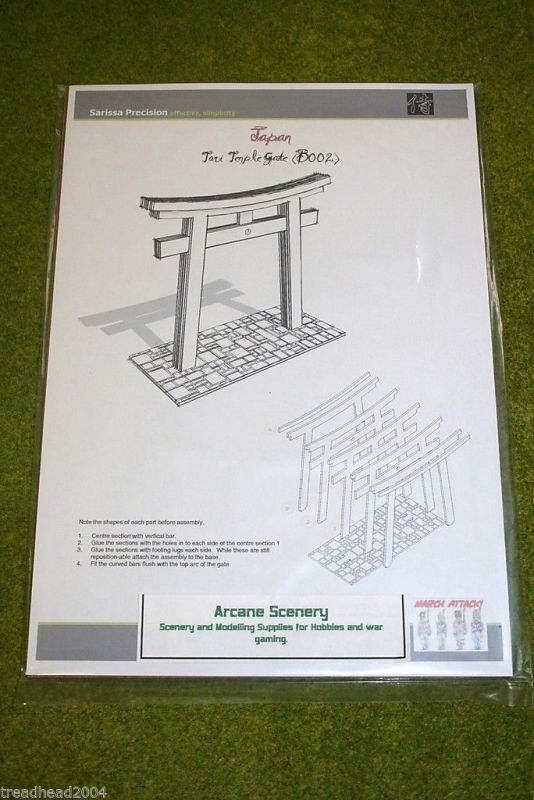 Made from Laser cut MDF, assembly is very simple using PVA glue. Painting is just as straight forward. There seem to be a lot of questions as to how easy is it to paint MDF. The answer is very easy. I just use the same paints (Vallejo) that I use on my miniatures, unless I am painting a large area. In which case, match pots of emulsion from B&Q (other DIY superstores are available) also work very well.
So, once I had assembled the gate, I sanded down any obvious mis matches on the pieces to get a smooth surface.  I left the main gate separate from the base and just sprayed it with Army Painter red. The first coat will bring out any imperfections and it is easy to remove these with another sand over with fine wet & dry paper. Once this was done I just resprayed it a couple more times to build the colour and that was that. I'm not sure if it's the right shade of red but it will do for me!
As for the base, this was just as easy. I took a fairly large brush and simply dry brushed it, with out priming, in a Dark Grey. I think that I gave it a couple of coats to cover the wood. This technique ensures that the laser etched detail is not covered. I then repeated the dry brushing with a Medium grey and then again with a lighter grey until I was happy with the effect. I picked out the etched cement between the flag stones using a small brush and a watered down pale grey to get the effect shown above. It was a simple but laborious job to follow the pattern.
So with my first piece of scenery made the next job was to sort out a playing surface. Of course I could use one of my other mats but I have a cunning plan for Test Of Honour. I think that it is an ideal club night game and my intention is to put together a 'Pick up Set' where by I can just grab a couple of boxes of Scenery and figures and head off to the club knowing that everything is there, ready to play. The solution to a playing surface can be found at Aldi at the moment if you are quick! For just £6.99 you can get a 1 metre by 2 Metre green Awning mat. Cut it in half and you have two ideal sized mats for Test of Honour, so if you 'go halves' with a mate, you pay just £3.50! Here's mine:
OK, it's not as glamourous as a Cigar Box mat but then at the price…If you look on the Test of Honour Face book page , I'll post some pictures of how it looks with scenery and figures on it later. If you follow this link, you can see details of the mat online:
You will also notice from the pictures I have some trees in Blossom. The story behind these is that I picked up a job lot of trees that were being discontinued by a supplier two years ago to sell on the stand at Salute – just £1.99 for a pack of two. Nobody wanted trees in Blossom and these were left over after the show. I decided that they would look nice on my table and here we are two years later and I cant get Blossom trees at such a price to sell for love or money…. They still look nice on my table though!
So if my playing surface and scenery box is taking shape, how am I doing with the figures. As usual for me, painting is slow but I am getting there. I now have six spearmen done.
The basing isn't really finished – I need to add some grass tufts or even better flowers but I haven't quite decided on the final scheme. I am also waiting on some decals to add onto the back banners.  They are ready for tonight's game though. Next up, the archers and I will give a bit more information on how I went about painting my war band.
In the meantime, you can see the range of Samurai items that we have in stock, including the superb Sarissa Japanese buildings range, here:
Sarissa also make a really nice range of Far East buildings that are also very suitable for more rural settings:
If it is paints that you are after: