A strange mix of subjects on my workbench at the moment! I've just about finished painting 18 rank & file Hanoverian Landwehr. As you can see from the picture, they're all based and ready for the table. There are of course 6 figures missing – the officers, ensigns & sergeants. They are undercoated and ready to paint, so they should keep me busy for the next few painting sessions. I will then have a nice unit of 24 figures representing the Munden Landwehr battalion. As far as finishing the figures went, once I had painted them with Army painter Strong tone, I gave them 24 hours to dry and then sprayed them with Army painter Anti shine. I tend to use a light coat and if the figures are still a bit shiny in places then I use vallejo matt varnish, just brushed on, to finish off.
The next job is to go back over the lighter colours to make them stand out. So I repaint the white straps, yellow hat bands and any metallics. The bayonets get a coat of silver to make them stand out on the battlefield! It sounds like a long process but it doesn't take too long. The idea is just to highlight these colours, so if you miss a bit then it just looks as though the area has been shaded.
Basing is then completed. Again, I have gone for a quick basing finish. The first task was to mount each 4 figures on a 40mm square renedra base. I then used Vallejo sandy paste to blend the figure bases into the renedra base to get an even surface. When this was dry, I painted this Vallejo chocolate brown to gice a dark base on which to work. I prefer a brown edge to my bases rather than green or black, which are also favoured by painters. Next up, I coated the bases in PVA and covered with a forest brown scatter. This in turn, had patches of Javis green scatter added and then I detailed the bases with smaller patches of Expo flowered field static grass. The final touch was to add some Noch summer grass tufts and of course my 'trademark' flowers – in this case, Noch white flower clumps.
In the picture you will also see that I have painted a female admirer waving the Hanoverians off to battle! It's a bit of a nod to the Warlord box art and she will of course take her place in little Bingham, the town on my war games table. Without getting too commercial, all of the items that I use are available in the Arcane Scenery shop and if anyone out there reading this needs some help, call us and I will be happy to talk through the materials & techniques used.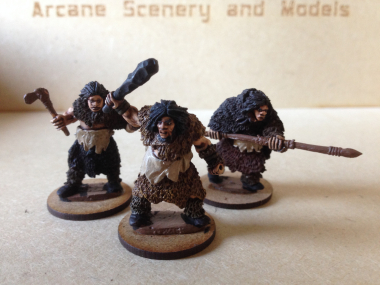 The other project that has leap-frogged up the painting queue is pack two of the Lucid Eye Neanderthals. Arcane Scenery are now stocking the Lucid Eye Range and of course the Neanderthals go really well with some of the Ice Age DeeZee miniatures that we produce. The Mammoths, Cave Bears & Smilodons for starters! So I'm working on getting a little band of Neanderthals ready for a Hunting party. One is just about finished, except the basing, the other two are just awaiting the fur pelts to be highlighted & the detail picked out. The techinique that I have used for these is slightly different from my usual style. Rather than using 'dip' to shade, I am shading and highlighting using inks, dry brushing and mixing lighter & lighter shades of the base colours. It's a bit more time consuming for me but gives a nice result, particularly when the figures are so well sculpted. Here's the progress so far. I'll spend a bit more time in my next blog detailing the colours used.