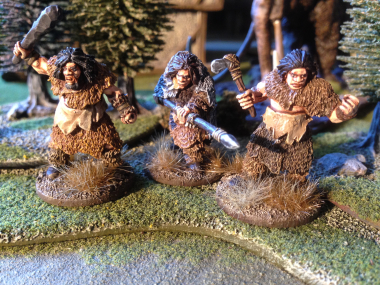 Sometimes it's difficult to fit painting miniatures around all the other jobs that need doing! The last week has been no exception. However, I have managed to finish the second pack of Neanderthals and I've also finished those Jaguars that were undercoated about three weeks ago. I'm happy with the Lucid Eye neanderthals. They are superb sculpts and that always makes it a pleasure to paint miniatures that have so much character. As regards the paint scheme, I used a variety of browns for the furs, from Vallejo of course! The colours were:
822 German Cam. Black brown, 872 chocolate, 984 Flat Brown, 871 Leather brown, 877 Gold Brown, 914 Green Ochre, 819 Iraqui sand, 918 Ivory plus white & off white. I painted the flesh using 804 beige red and flat flesh. I also used a few ink washes of various strengths , both strong tone brown & Vallejo black shade. The basing was straight forward. Just some Vallejo Sandy paste to level things up and then a coat of basing sand painted with Vallejo chocolate brown highlighted with Iraqi sand. To finish, just a few highland tufts!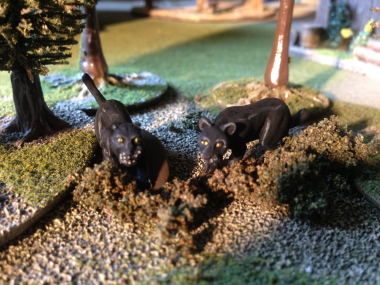 The next project was the Jaguars. I'm not sure that I am happy with the finished result. Painting and highlighting black is a devilish business! I've tried using blue rather than grey or white and in the end it was a mixture of both but I haven't got the effect that I was looking for. I also used white to paint on some whiskers & for the teeth but it all looks a bit stark. the standard of photography isn't too good either!The yellow eyes have just about worked. I think that when they are properly based, with plenty off jungle cover they may look OK. So that's it for this week. Next up, back to Hanoverians – the officers this time.