It seems like I have been painting my Irish warband for half the year but at last they are complete and ready to take to the table. I actually started to paint them in July, so it has taken me some time to finish the warband. It didn't help that I had decided to paint the complete collection of Irish warriors from the Footsore range. I had actually finished enough Hearth Guard, Warriors, and Levy to field a warband some time ago but the Heroes in the Footsore range are such lovely sculpts I had to add them to the band. So I now have Ulf The Quarrelsome ( no you don't…who said that..); Brian Boru, the High King of Ireland; a Priest; Standard Bearer and enough assorted heroes to give me the flexibility to easily field up to 6pts and more, in a Saga game.
The Heroes all took a bit longer to paint than the standard rank and file troops. I wanted them to be wearing more decorative clothes. However, I did stick to a limited pallet of paints and tried to avoid really bright colours. I agonised over how to finish the shields. I couldn't make up my mind whether to use shield transfers or whether to paint them free hand. I decided to go down the free hand route but as I am no artist, I have kept the designs very simple. I had the same conflict when it came to producing the banners. Despite my concern that the Dark Age Irish would not have access to a graphic designer, I decided that the Little Bigman Studio Banner transfers were too nice not to use…
When it came to basing up the figures I put all of them onto 25mm round MDF bases, with the exception of Brian Boru and my 'reserve Warlord' – these went on 40mm bases. Although the Footsore Brian comes as a set of three figures, I decided that I would just mount him and the standard bearer on a 40mm round base. I also swapped out the Footsore Warlord with the mean looking guy from the Irish Command set. I think that he makes a better warlord, so the other figure has been relegated to Hearth guard status! So I have the luxury of two warlords to play. If I use Brian Boru, although he is 'free' in terms of points, his effectiveness as a warrior may be a challenge. Generating three saga dice and costing no additional points is a great bonus but his combat abilities are very limited – he will need protecting!
I mentioned that all the other figures are separately based on 25mm MDF bases. This gives me the opportunity to field these figures as separate units or even add them to another warband. I think that the heroes armed with Dane Axes will be quite at home in an Anglo Dane army.
I've also been playing with movement tray design for Saga. Whilst my rectangular trays ranked my figures up nicely for display purposes, I didn't think that they would look so good on the table. I was messing around with some other options and found these smaller skirmish trays that were designed for fire teams in bolt action by Sarissa. A quick conversation with those very helpful people and they produced a Saga Movement tray set. You can put four figures in the tray, allowing you to deploy units of 4, 8 or 12 very simply. The way in which they wrap around each other means that you can change the shape of the unit from a 'clump' to a line fairly easily. Of course when you get to combat, it will make sense to take the figures out of their tray but it will make the initial moves in a game easier. They are also good for transporting your army.
My intention is to use some Vallejo paste on the trays to make them blend with my basing scheme, but the picture does show how they might work. So the sharp eyed amongst you will see that I am two war banners short and those with long memories will be asking where are the dogs that you were going to make? Well the banners are ready, I just didn't have the time to fix them to the poles before I took the pictures. As for the dogs, they are at the back of the work bench. My next project beckons…time to do some scenery!
If you would like to have a go at building your own Irish Warband, Footsore do a 4pt warband (26 figures) for just £36.00. Even better if you purchase before the end of the month through my shop, we are supplying free bases and spears for the warband. Just add the code WARBAND in at checkout. Even better, if you enter SEPT5, you will get an additional 5% discount and of course free postage. Free postage is worldwide, so yes, that does include USA and Australia… Click here to purchase your Warband:
If you would like to buy the Saga movement trays that we have designed with Sarrisa, just click the photo: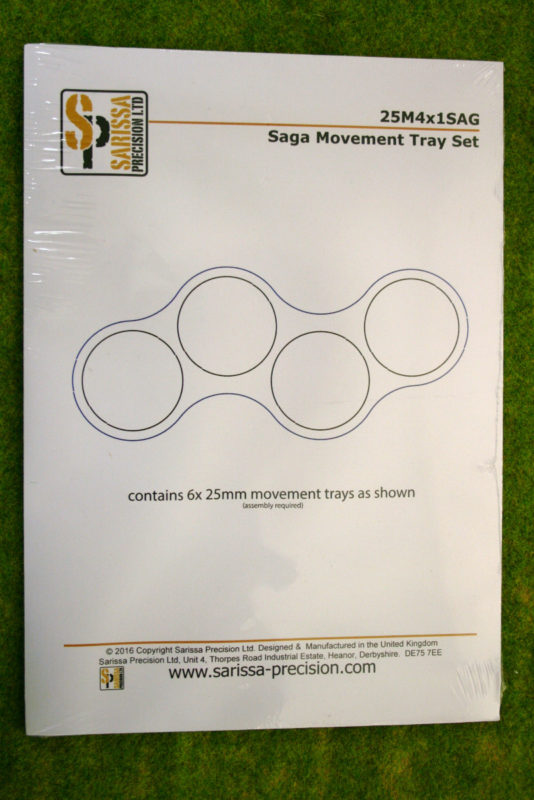 By the way, the trays also include the 25mm bases, so you will have some spares!
If you would like quick links to my other saga articles for details of the paints used and the basing scheme, just click here:
Right! I'm off to fight a battle!