This blog is a bit of a catch up on some of the side projects that I have been working on. First up, I inherited some old foundry WOTR figures from a very good friend. They were unbased, a bit chipped and some of their spears had broken off. That said, they were beautifully painted, complete with hand painted standards. I thought that they deserved a bit of TLC so that they could return to the table top once again!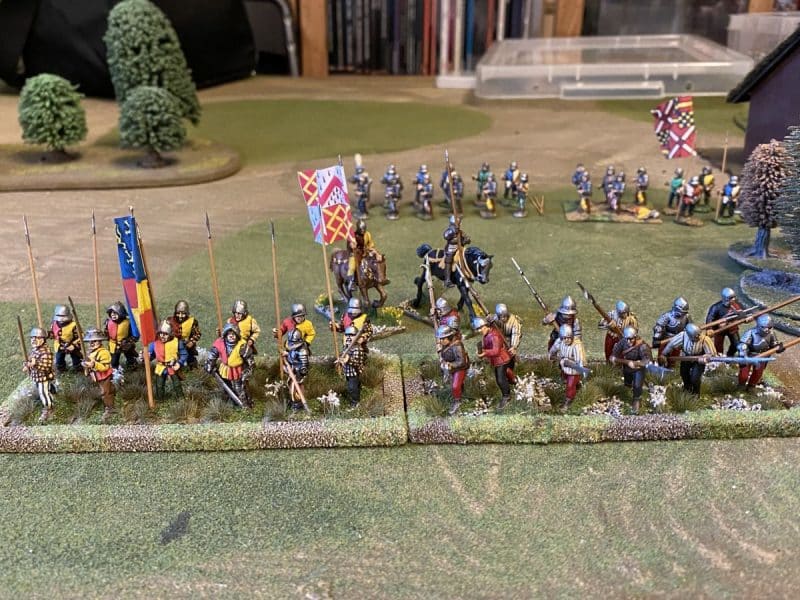 The Foundry figures were sculpted by the Perry's so they are obviously very similar to my existing Perry Plastic army but a bit on the short side. I remedied this by re basing them on thicker MDF bases and used the basing texture paste to give them a bit more height. I then touched up any obvious paint chips, re painted the helmets to give them a bit of shine and re attached the spears. Once they were in their new movement tray they looked fine next to the newer Perry Plastics – as you can see from the photograph.
Whilst I was working on this unit I also thought that I would add some extra flags to my units. Pete Harris had kindly given me a sheet of Freezy Water Yorkist flags. Rather then leaving them languishing in a folder unused, I cut them out and attached them to 100mm spears that we sell at Arcane Scenery. I had to cut the spears down as they were a bit long. Be careful if you do this. I was using my Xuron cutters, that will go through the steel pins with ease BUT the off-cuts fly all over the place, so make sure that you protect your eyes! Once the flags were mounted, I painted the edges of the flags to cover any white that shouldn't be showing with approximately the matching colours and then drilled the back of my movement trays to add the flags.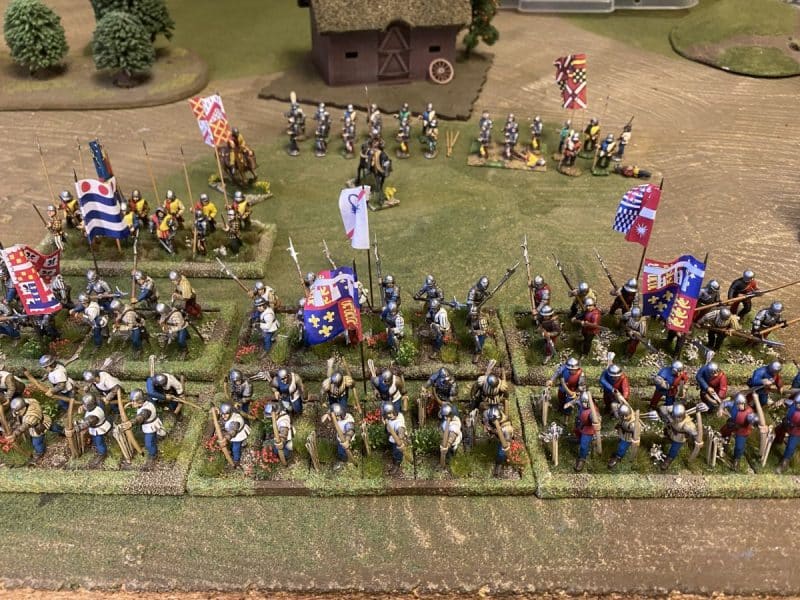 Now purists should sit down now. I didn't worry at all about what flag should go with what unit or even who the flags should represent. So long as the colours were close to the livery of the figures, I added them to the tray. Should I decide to re fight a specific battle of the WOTR in the future, it is a simple matter to remove the flags and find the correct ones, but for now my units look prettier on the table!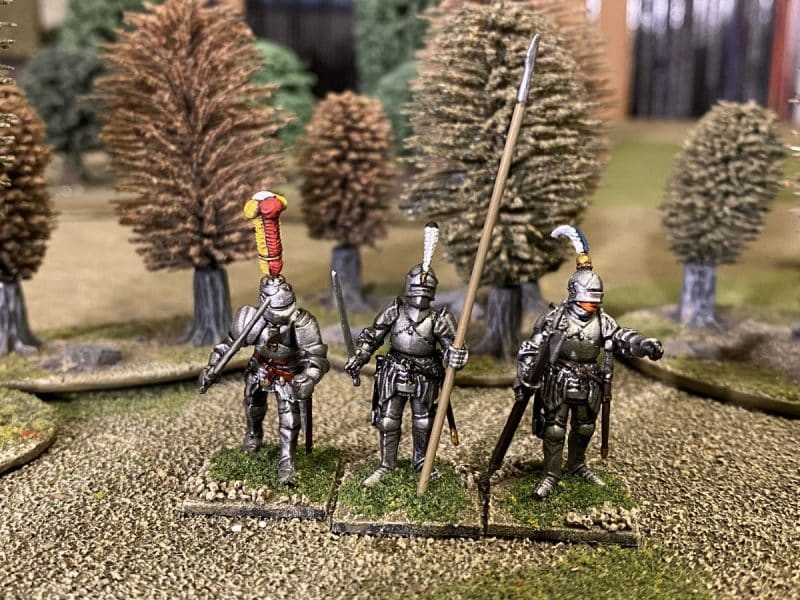 Whilst I was in the mood to finish things off and get figures off of the lead pile, I decided to complete the three last figures that I had left over from a Perry's Plastic WOTR command frame. I decided to give them heads from the mounted men at arms. I was influenced by Pete Harris ( the other one… yes, there are two Pete Harris's that I game with and I thought that everyone in wargaming was called Dave) and my memories of the Crescent knights that I had as a child..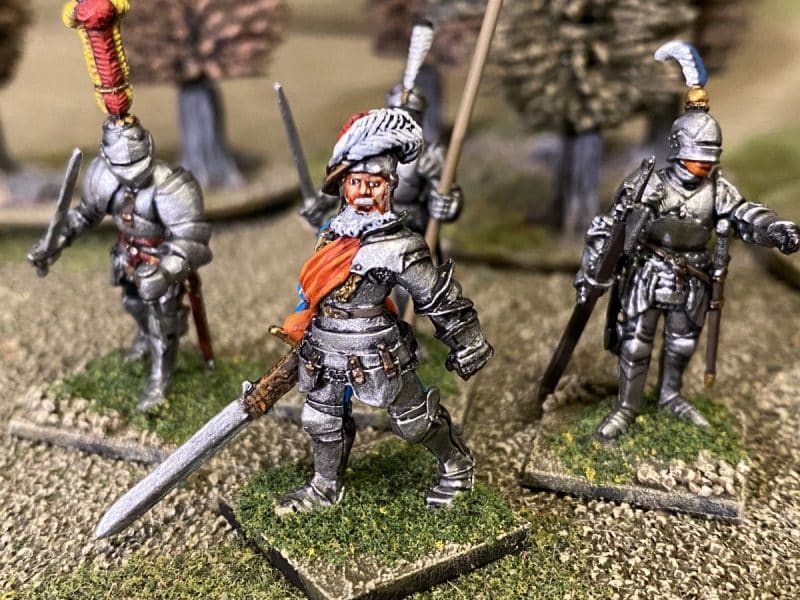 The final figure that I painted was a limited edition Cry Havoc' Games Workshop figure that I had acquired years ago. I realised that he was based on a Landsknecht and thought that he would make a good 'Martin Schwartz' should I ever get around to adding a German contingent to my army! He is a bit on the tall side but will make an imposing command figure. So despite 'finishing' my WOTR army, I keep finding excuses to add to it. It has now grown to well over 300 figures and there's more to paint!
THE COMMERCIAL BIT
I hope that you all enjoy your hobby as much as I do – remember that our web site will have much of what you need! Click here to see our shop:
We also have a category devoted to Never Mind the Bill Hooks:
Please have a look at our tools section to find the Xuron clippers
Happy Modelling!