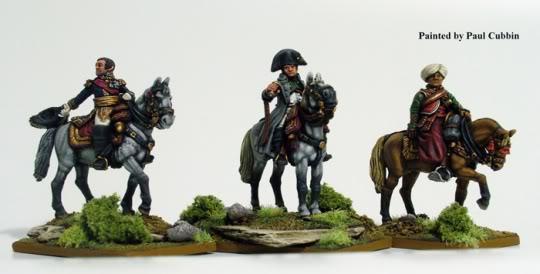 This week we have had a really big restock on Perry Miniatures and in particular some of the Napoleonic ranges.
We have from their plastic range the French Napoleonic Heavy Cavalry, and British Napoleonic Line Infantry. Whilst from their beautifully moulded metal range we have the French Heavy Cavalry Generals, Napoleon and his staff, and French Mounted Generals. If you're not a Napoleonic fan we also have back in stock the European 1450 Mercenaries and American Civil War Cavalry.
We are really big fans, as are many people, of the Perry ranges. The brothers are master sculptors who prior to setting up their own range worked at Foundry. Their kits are not only beautifully modelled, but they also come with really helpful painting guides. You aren't obliged to follow the guides, but if you are just starting out with Napoleonics for example, they are very useful to give you an idea of what you might want to paint them as, before you launch into buying big books of uniform guides.  Many of their plastic box sets come with a multitude of heads to allow you to have variety in your troop.
Also new in stock, and something that has confused a few people, so we thought we should mention it is the Saga Skraelings. If you haven't read much Viking history in your life you might not be familiar with these chaps. They are essentially the Native Americans that the Vikings reputedly met when visiting Greenland. They come with their own battleboard and rules, and though history suggests only the Vikings really met them, you can play them against any of the other Saga Armies.
Check out our newest items in our store!