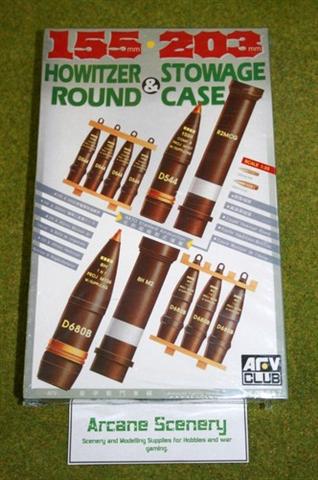 This week we have a mixture of new and new to us. As you probably know by now, Steve is on a mission to ensure that Arcane has the most complete ranges possible (its that collector thing "must have ALL!"). So some of our items this week are filling in our ranges, or in the case of some are items that have been out of the country for some time, those Chinese model makers didn't want to share toys I guess…
The first item is new, its some bullets. Perfect for the AFV Long Tom gun the Howitzer 155mm and 203mm bullets and stowage case in 1:35 are ideal for adding some ballistic realism to your model. AFV are a very popular brand with some great reviews across the board.
From Trumpeter we have now in the  WW2 LCM 3 USN Vehicle Landing Craft, and T-34/85 1944 Tank. These are both in the 1:72 scale and are filling in our ranges, to make them all the more complete. Trumpeter kits are highly detailed and very accurate kits; ideal for the historic enthusiast modeller, but also great on the games table.
We have quite a few HobbyBoss items that have appeared this week. First of all the rather dashing Drainsine "Krasnaja Zvezda" which is a Russian diesel train with KV tank turrets. Then from the 1:35 scale we have some contributions from the other Red Army, the Chinese. There is the ZTZ 96A MBT tank, which is also known as type 88C main battle tank. Next we have the BJ2022JC YONGSHI SUV, which is a light military vehicle often used on the parade ground, and another tank the ZTZ 99 MBT. To even things up a bit we also have the American M3A1 Scout car  in its early production model, which was a scout car not really suitable for scouting, and so was often used for other duties.
Do check out our new items here and here as items are being added all the time…literally.