As a youngster of about 9 years old, I had a large collection of 1/32 or 54mm scale figures. Of course they were toy soldiers really, but they were also lovely models and would stand comparison to much that is available today. The model soldiers or toy soldiers were made by Britains and they were beautifully posed and had all sorts of accessories. I had a small army of Second world war soldiers, a detatchment of Confederates, including cavalry, artillery and infantry, from the American Civil War and a large force of Medieval Knights and Ancients. I think the way it worked was that each Christmas my Brother and I would decide which soldiers appealed to us and we would put them on our Christmas list. We usually ended up having a swop up on Boxing day as our Parents didn't always appreciate that we wanted opposing armies. So Pete had his own armies, usually different to mine, to ensure that there was no disputes over who had what.
That was all quite straight forward when it came to the American Civil war. Pete was the Union and I was the Confederates. I think the Second World War was fairly straight forward as well, I was happy to take the Axis Troops and Pete the Allies. The negotiations over the Medieval knights was a much more protracted affair and revolved around who would have the longbowmen ( the English!) and who would have the crossbowmen (the French….). Matters were resolved when Pete decided that he would have the Crossbow men as he prefered William Tell to Robin Hood. I think he was a bit sneaky as well, as the crossbowmen were kneeling down, so they were harder to hit with lego bricks. Yes, that was how we played our first war games. We would stand up our armies at opposite ends of the room and throw Lego at them until they were all knocked over. Last man standing won…..not much dispute over the rules here!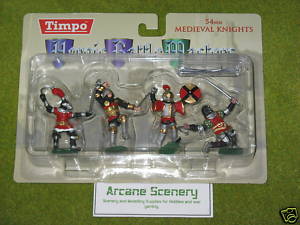 Our collections of Britains figures were supplemented by other manufacturers like Herald, Lone Star and of course Timpo. The Timpo figures weren't quite as good as the Britains but they were cheaper and we could afford to bulk out our armies with these. So I when I saw that one of my suppliers had obtained a range of Timpo figures I had to have them in my shop. It's true that they're are a bit closer to toy soldiers than model soldiers but there are some interesting subjects that as far as I know just aren't available elsewhere in 54mm scale and they're still cheap! So if like me, you fancy going back to your childhood, take a look at my shop and see if there are any Timpo toy soldiers that you remember. They're still worth having in a collection or why not see if a younger member of the family can be tempted into the world of toy soldiers with a few packs!
Just as I received my delivery of Timpo soldiers, Victrix released their new 54mm Napoleonic Peninsular British Infantry set. It contains 16 superb models moulded in hard plastic with optional weapons, arms & heads to enable you to produce your own army in unique poses. I'll provide a complete review in a later blog, but this set me to thinking just how many soldiers I now have available in 54mm scale. There are ready painted Knights from Deagostini, Sets from A Call to Arms, HaT, Italeri and of course Airfix. You can now buy soldiers from the Roman wars, such as Hannibals Numidian Cavalry right through the ages to the Second World War to Timpo's ANZAC infantry. As a child I would have been spoilt for choice with such a huge selection to collect. Fortunately, I still am……