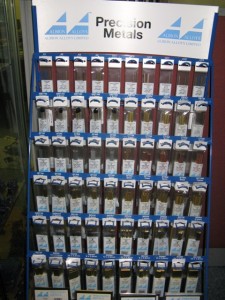 I'm very excited to receive my latest range, the Albion Alloys range of Precision Metals. On first glance, you might think, so what, it's just metal! If you are at all into scratch building or converting models though, you will be as excited as me. The range of Albion Alloys consists of Aluminum, Brass & Copper tube, rod, sheet and channeling in various sizes. Of course, as the name suggests the pieces are precision engineered and cut to the specified sizes and they are incredibly useful for modelling projects. Primarily designed for model engineers, these pieces are incredibly useful to modellers and wargamers.
The tubes slide fit into the next size up ( telescope) to enable you to build pistons etc. The rod is ideal for pinning models. If nothing else, using the tube to replace the post on flying stands will ensure that your model doesn't snap off during games! The micro brass tube can be used to replace gun barrels to make them look more authentic and you can even use the tube to make shell cases. The channeling is great for model Tanks, for making brackets etc.
I will be carrying a range of some 60 different types of Albion Alloys in my ebay shop as part of the Expo Tools range and I will also be adding the range to my independent on line shop in time. As well as the lines that I hold ready for instant dispatch, I am also able to order most of the Albion Alloy range, including the larger 1 metre lengths. If you would like details, please contact me through the shop email.