The weather has somewhat curtailed my painting over the last week. It's a bit hot to be sat in my garage painting when other activities beckon. You know the sort of thing, burning meat on the barbecue, sampling the odd cold beer and the occasional gardening task which can be put off no longer. I have made some small progress on the Napoleonic field forge. The forge is finished, the crew are at the final stage of highlighting and the two other figures need about an hours work on them. What will really make the difference is the basing, which as you can see is nowhere near finished.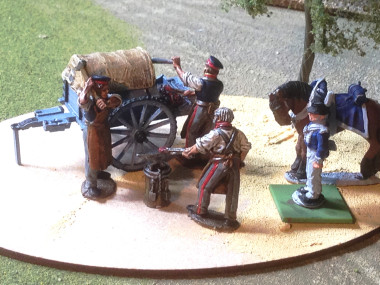 Just to add to my agonies over my lack of progress on painting, the Perry's have only gone and released their new British Light Dragoons boxed set! Well, I expect to receive it into the shop tomorrow, so watch facebook for confirmation. I've been drooling over these ever since they announced the release at Salute.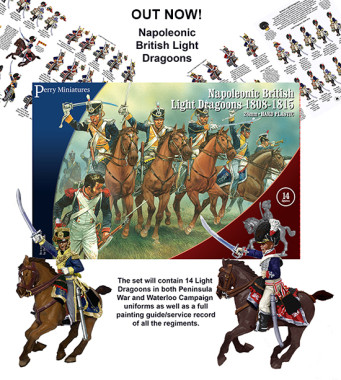 With fourteen figures plus loads of extras, I cant wait to get my hands on a set! Those Hanoverians that are sat on the work bench might just get pushed down the painting line! Of course, my mind then goes into overdrive. If I bought three boxes, I could do the whole 4th British Cavalry Brigade at Waterloo. It comprised of the 11th Light Dragoons (Light Buff plastron & facings); 12th Light Dragoons ( Pale yellow plastron & facings) and the 16th Light Dragoons (Scarlet plastron & Facings). Even better, if I keep to 12 models per regiment, I will have 6 spare, so I could get some of the Perry Metal Dragoons and have an extra regiment, say from the KGL. Of course then there is all of the spare Tarleton heads that I'll have. Just thinking about the conversion possibilities is giving me a head ache! Tarletons were worn by horse artillery and rocket troops and of course the Out riders on limbers etc, so a quick search in my spares box and I bet I could soon find the bits that I would need to build a few of these…
And there lies the madness! In the time that it takes to sink a cold beer, I have convinced myself that I can have 48 Cavalry figures painted and based in the next couple of weeks and meanwhile the other project of completing the Infantry brigade has been put to one side. Whats the betting that just before I finish the Light Cavalry Brigade another new release will set me off on the next project! I guess it is what makes the hobby interesting and gives us all something to talk about whilst we are gaming!
But I'm still going to get those Dragoons!!!