With the 200th anniversary of the Battle of Waterloo fast approaching. I'm desperately trying to finish another unit for our 'Grand Battle' planned for this Saturday. It's not going to happen though! I've fallen into the trap of trying to do too much and not actually finishing anything that I've started.
The 'Grand Battle' planned for this Saturday will be our annual tribute to Waterloo. We don't actually re-fight the battle as such. It's more a case of that we put as many troops as we can muster on a battlefield that has some similarities to Waterloo. After spending an hour or so admiring the scene and having a chin wag over a cup of tea, we then roll some dice and play a huge game of Black powder. It takes all day, and the result is largely immaterial, but it is great fun and the random results of the dice throwing usually causes some merriment and some good talking points. You can see last years battle report here http://arcanesceneryandmodels.co.uk/battle-report-waterloo-2014/
with the need to field more artillery, I thought that I would crack on with my next Prussian unit, a battery of three guns, 6pdrs to be precise, made by the Perry's. The first task was to do some research as to what colours to paint the guns and the Uniforms of the crew. My usual quick source, the superb Mont St Jean web site gave me this picture to use.
I always use this website as a starting point. That and of course, and the Manufactures' own painted examples. You can be fairly confident that they have done their research when producing the models and the pro painters will be following their own research. I also consult my collection of Osprey books and various other references that I have and then finish off with a trawl through the internet – google images is a good source! By the time I have done all of this, I have a picture in my mind as to how I want the figures to look. The are always discrepancies and contradictions in the material. For example, I have found pictures showing the short sword scabbard in both brown and black. And the blanket covers & straps in both dark grey and leather. At the end of my research, I just make a decision as to what I think will look the best for me, no doubt to the horror of some purists!
So onto painting! The guns were painted in Vallejo Prussian Blue, with the ironwork in black and the gun barrels in brass. The crew in Vallejo Dark Prussian blue jackets, Neutral Grey trousers, Black Grey gaiters, red turn backs & facings, Black collars, cuffs & boots, much as the picture above. The first gun and crew are now almost finished, the the other two not far behind but they are not going to be ready for Saturday!
I could possibly rush them, but in reality I know that I have at least three more 'sessions' to go before they are ready for the battlefield. Even the first gun will need a final highlight & tidy up, and then there's the basing. Rather than cut corners, I'll wait – they will be ready for next year! What really caused the problem was that I was diverted and panicked into trying to finish another project that has been sat around on the bench – Papelotte Farm! Talk about biting off more than you can chew! I started to paint this as well and again, it is nowhere near finished….
It will end up on the table – even in this state it will be OK but it's not quite what I had in mind. And just to show how I have engineered my own failure, whilst preparing the Prussians I decided that it would be a good idea to get this Field forge ready for painting…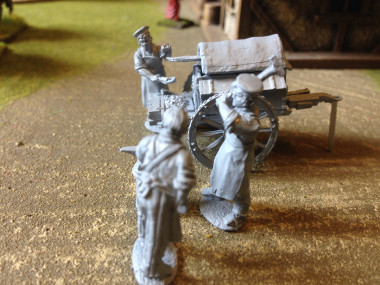 Never mind, at least the Cavalry are now finished and ready for battle!