Some of our regular readers will have noticed the drop in content recently. This is because our Girl Friday, Lotte, has moved on to greater things, leaving a gap in our resources and the office a slightly quieter but less interesting and attractive place…. So it's back to me writing the blog for the future, which means that we will be dropping the regular history posts and just producing a weekly post.
Rather than try to cover all of the new releases every week, I'll just pick out the ones that catch my eye or are part of a new range. There really is so much new stuff coming out it's as much as I can do to keep it listed. But it is all listed! Check out my ebay shop for the latest releases & restocks.
As for modelling articles, I intend to keep you up to date with whatever is on my work bench but as I am a slow painter, this will be about once a fortnight rather than weekly.  As you will be aware, I tend to focus on the Napoleonic era at the moment and I'm trying to build a good sized British contingent as well as some of their allies such as the Prussians and later on I have plans for  the Portuguese! However, I occassionally get diverted, particularly when a good new rules set comes out so watch out for Muskets & Tomahawks related stuff and of course, with the impending release of Bolt Action, a World War II army.
Whenever possible, we'll also publish pictures from guest modellers which hopefully will help to inspire you or give you ideas for your own projects. On that note, here is a selection of pictures of some Perry Miniatures Russians painted by Chris using our Expo brushes.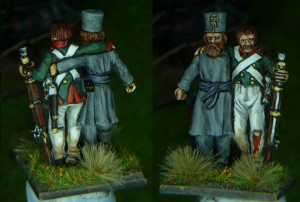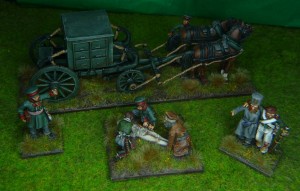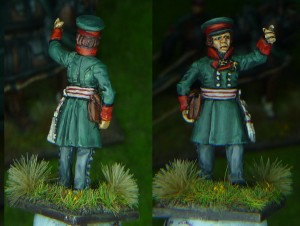 I'm sure that you will agree that the painting is superb, and I particularly like the basing detail. Nice Work Chris!