We've recently added Miniart models to our range and we are gradually building the selection available for our customers. As usual, we'll add in the new releases as they become available and also work back through the range until we have everything available. This may take some time as there is currently 289 models available but if there is a particular model that you would like, just drop us an email & we'll get back with a price & delivery time.
I particularly like the miniart range as there is a good selection of diorama bases to help customers display their models and the range contains some really interesting subjects not covered by the more well known suppliers.
An example of this is the recent release of the Ya-12, Soviet Artillery tractor. It's a really characterfiul subject that will look great as part of a diorama and will make a change from building the usual T34 variants! The kit has 458 parts, including photo etched parts for even greater detail. We particularly like the Miniart instruction book that comes with the kit, It  is has a full colour painting guide and comprehensive instructions.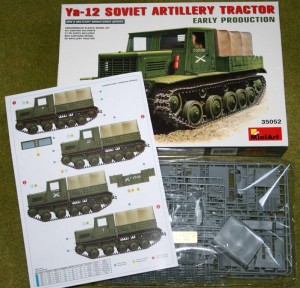 It's available now in our ebay shop along with our other MiniArt items.