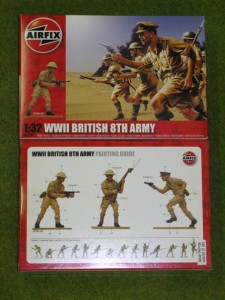 I have just had the latest releases in from Airfix. They are 1/32 scale WWII British 8th Army and 1/32 scale WWII British Paratroops. As with previous releases, these aren't technically new but reissues of old sets. They were originally produced back in the 70's, I think, as I certainly had a set in my younger days!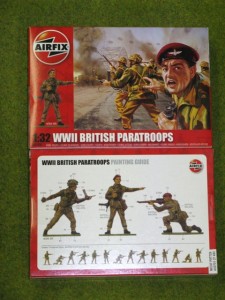 These aren't the multipose kits construction kits but boxes of one piece figures. The good news is that they are moulded in hard plastic, so they will be easier to paint than the old polythene versions and it will be possible to convert them & glue them with normal polystyrene glue.
Each box contains 14 unpainted figures and there will be seven different poses in each box. The figures that I have are all nice and crisply moulded and will need the minimum of cleaning up before painting. The poses are well thought out and realistic. I particularly like the 8th army figures, they look as though they have just stepped of the page of a picture of the advance on El Alamein!
As always, they are available from my shop. Watch out for the next releases which will include Afrika Korps, U. S Paras, U.S. Infantry, German Paratroops, German Infantry and British Commandos.