I'm not easily deflected from my ongoing modelling projects but this week the Necrons have been pushed to one side of the modelling board by the arrival of some advance samples from Mantic. I dont get too many freebies and when I do, I usually put them in the spares box or on the giveaway pile, but on this occassion I decided to get stuck into them, so to speak.
The new Kings of War Elves set arrived in it's impressive plastic box and art work. This was enough to tempt me to take a close look at the contents, even though they are Fantasy figures! The hard plastic box doubles as a carry case for your figures when they are finished. What a clever idea!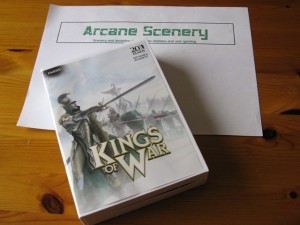 There was just one sprue in the box as a sample. There are the parts for 10 models on the sprue but also included are lots of clever extras that you can use to customise you models. There are extra pieces of armour, weapons, shields, extra arms and heads for different poses, you even get a casualty in the shape of a dead or wounded elf lying prone.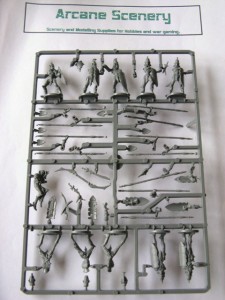 So how do the figures go together? Well, nice and easy! There is very little flash or mould lines to clean up and because the plastic is fairly soft it is easy to remove with a quick scrape using your scalpel blade. Some of the figures have clip on arms so that you can try out the poses first, a useful option, whilst others need a bit more assembly, giving you the option of variety in your poses. The ten figures that I built were divided into five for the back rank in 'ready' mode and the five in the front rank that were in a more dynamic attack pose. Again, I think this is a clever way of allowing you to build ranked units.
So within 30 minutes I had my first ever unit of Fantasy Elves ready for cleaing up and undercoating prior to painting. Here are the pictures, with apologies for the rough background! The models are posed on my work board. So the next job is to get painting them, which will take a bit longer for me as I'm not the quickest but I'll get back with the finished models.
One final thought, the figures have small circular bases, however, they are also supplied with square 20mm bases that allow you to clip the figures in on thier moulded bases. It's very clever and allows you to use the figures as ranked units or skirmishers. Mantic have obviously thought very carefully about their design and the care that they have taken just shows at every stage.
The sprue that I've built is the troops sprue which is the only production sample ready at the moment. I've had a look at the other sprue that will be included and it's even better, as you get more goodies, including a command group. I think that the official release date is about five weeks away but I will keep you up to date with prices and any other developments…..talking of which, I've also caught sight of the next race in development, SKELETONS! The master 'three up' looks superb….you read it here first….