Yes, the Mantic 'Kings of War' Elves range has now been launched and I'm delighted to say that Arcane Scenery is an official stockist and we will carry the full range both in our ebay shop and our webstore all despatched post free to UK addresses.
Just before I give full details of the sets that are available I thought that I would show you the Spearmen set that I started in a previous Blog entry. The last time I showed you a photo, the figures were assembled and waiting to be painted. Well, they're now finished and waiting for reinforcements!
I'm really pleased with the final result. This is my first Fantasy unit that I've done in recent times. I went for a fairly straight forward colour scheme. The figures were first undercoated in black, then dry brushed with gun metal, then a second dry brush of Silver to highlight the armour and I picked out some of the detail in gold to finish off. I then painted the the faces with Flesh, the boots with graveyard brown, the hair with desert yellow and the spears with gold. All of these colours were given a quick highlight in either a lighter tone or with a dash of white added to the original colour and that was the painting done. Oh, the shields were simply painted matt white and I 'cheated' and used the stickers supplied with the figures. I think that they look pretty good although you could paint your own design onto the shields if you prefer.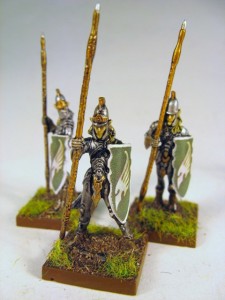 The bases were finished in Bestial Brown, coated with Forest Brown Scatter and then detailed with spring colour static grass.
So I have my first unit of Elven Spearmen ready to take to the battlefield. A unit like this will cost just