We' just received our latest re stock in from Pegasus Hobbies. Pegasus are an American Company that are imported into the UK by Pocketbond and they have an interesting range of model kits, scenery items and model soldiers sets that covers a huge range of subjects.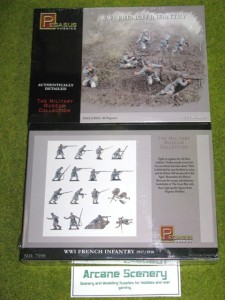 The latest releases to reach us are the new sets of French Infantry in 1/72nd scale. Pegasus have released a set of late World War One French infantry and a set of Early WorldWar Two French infantry. Each set contains 40 figures in 15 different poses. It seems as though Pegasus have used similar masters as the poses in each set are very similar and in some cases the weapons look the same! Evidence, perhaps, of the lack of progress that the French made in re arming between the wars!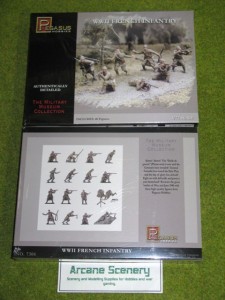 The World War Two French are particularly welcome, as these are very under represented for collectors and war gamers.
They are available from my ebay shop at £6.99. We also sell the Pocketbond catalogue if you would like to see the full range of Pegasus models. It is just £1.99 post free from my shop.