We are moving on with our flank company figures and in the last picture you saw they had just been dipped. We've now got to the stage where they've had a coat of matt varnish.
Tips when using varnish:
Make sure the figures get to dry for at least 24 hours, the dip will be touch dry after 1 to 2 hours, but you really want it to set hard. If you use your varnish too quickly on top of dip there is a danger you will end up with the varnish fogging.
You should make sure you shake your varnish. I cannot stress this how important this is.
When you come to use your varnish use it very sparingly.
I may need to go back to these figures a second time and matt them down a bit more as they are a bit shiny on cuffs, coats and on the hats, though I am not too worried about the hats as they would have been wearing oilskins, but the coats need to be matt.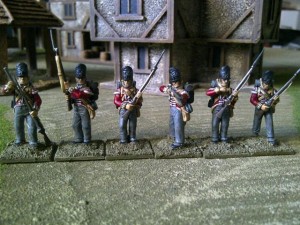 Prior to painting the bases I have coated them in pva glue, and dipped in normal fine sand. You don't want the sand to be too coarse as it can look a little out of scale. I have painted the bases the same colour as I painted my wargames table, using an ordinary emulsion called Dehli Bazaar. To highlight the bases I have used some Vallejo White to give a bit of contrast.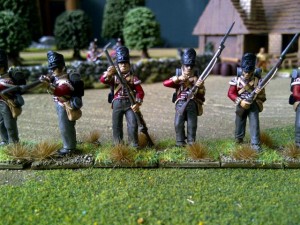 I have added also  some static  grass to the bases. I use flowered flock, Expo Static Grass Flowered Field effect, and I'm going to use some Army Painter Highland winter tufts to give the bases some more texture.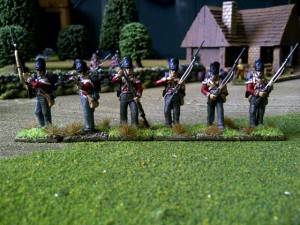 The final picture shows those six soldiers from the flank company of the 27th Enniskillens.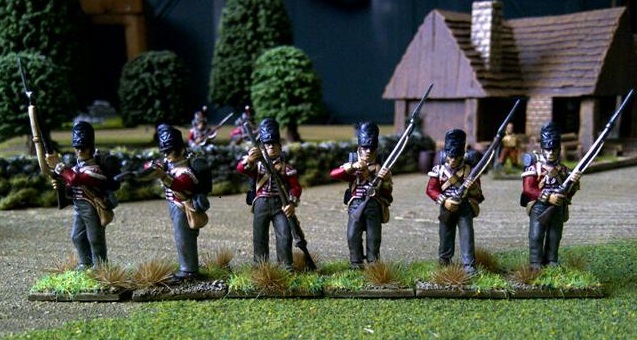 I am quite pleased with them. I was initially a little disappointed, because I felt the buff didn't look as good with red as white might. I have gone back and touched up the white highlights on the shoulders because the quickshade had dirtied these down, and I have slightly retouched the buff strapping. I haven't re-varnished the hats, and they are still a little glossy which would be a reflection of how the oil skins would be. I have gone back to the red, almost dry brushing with the flat red to improve the colour density.
I will continue with the rest of the battalion (32 figures) and at some point we will do an article on the officer, sergeant, drummer and two ensigns. We are going to paint these a little differently with more highlighting and less reliance on quickshade. I was talking to a professional painter and he said if you concentrate on the faces, bases, flags and officers and then your figures will always look good on the battlefield.
If you've got any modelling and painting projects you'd like to share email us at: girlfriday@arcanesceneryandmodels.co.uk