Actually the title was just an intro to another round up on the progress with my  Hanoverians. But, before we get to that, a couple of things have set my mind working. The first was a throw away comment at our regular Black Powder game last week. My opponent, Pete, was explaining our game to his new ally and they were going through the troop types. He pointed out my Hanoverian Landwehr Battalion and said that 'Steve uses them as British, so they still get first fire (Black Powder rules)'. Now, nothing derogatory was meant by this comment, Pete was just pointing out why one battalion looked different to another, on my side of the table. But it set me thinking about how should I differentiate between my various troops.
The other thing that was on my mind was that I had just finished reading my sixth book on Waterloo. Since my visit to the actual battlefield, last May, my fascination has intensified and I cant help but keep reading about it! The book that I had just finished was an account of the defence of Hougomont by Julian Paget & Derek Saunders, a nice little book that looked specifically at the attacks on Hougomont and the brave defence by the British Guards. Except that it wasn't just the British Guards. There were Hanoverians and Nassauers there as well. Now before you think I am going down the Peter Hofschroer route of  'it was the Germans wot won the Battle really', I'm not, that debate can wait for another day. What I'm interested in is the perceived quality of the troops involved in the battle and how wargamers portray them on the table.
Barry Hilton has touched on this subject in a very good article in Wargames Illustrated and I think he's got a point. Should we really judge how good troops are and give them extra advantages over opponents based on reputation or should we let the dice decide as the game goes on. In other words, should all troops should be equal at the start of the game and only broad National traits based on operational factors  built into the rules. The latter is  certainly my preference, when it comes to general wargaming.
Back to Waterloo,  Wellington himself was concerned about the quality of his allied troops, partly due to their inexperience, I think and perhaps because some of them had been fighting with the French not so long ago. Reading accounts of the battle though, very few of these troops appeared to have under performed, ie. run away! Its been argued that this was because Wellington had cleverly bolstered the morale of these troops by mixing them with seasoned British battalions. Certainly at a Divisional level this was true, but not so much at brigade level and rarely at Battalion level. It looks to me as though the Allied troops performed every bit as well as the British regardless as to whether they were Landwehr or line battalions.
Being Devils advocate (why not, it's my blog!), there were three notable instances of troops that ran under fire or refused to attack and ran away. The most serious example were the Duke of Cumberlands Hussars, who simply refused to engage and ran away. They were in effect an amateur regiment of dandy soldiers with fancy uniforms that didn't want to risk injury….They had very little impact, if any, on either the battle or the troops around them.
The other notable incident, often referred to, is the retreat of the Dutch Brigade under the command of Bijlandt. This incident is still a matter of debate amongst armchair generals and historians (usually the same thing…) but to be fair, the general impression that I have, was that the Brigade had conducted itself well at Quatre Bras, losing a fair few casualties, only to find itself at Waterloo on the front line facing the full force of D'Erlons advance after being softened up by the French Grand battery. They appeared to have cracked and retreated under the sustained pressure.
So to the last of my three instances of Troops that cracked under fire – I bring you the French Imperial Guard! These boys had been loafing around for most of the battle until being led by their beloved leader, Napoleon, across the battlefield to engage an enemy that had been under fire all day, charged repeatedly by the French Cavalry and were now facing yet another massive attack. So who was that broke and ran away? Why, the French Elite Infantry, taking with them the rest of the French Army. Confronted with an enemy that stood and fought, the Imperial Guard broke and ran. Well to be fair, they retreated in reasonably good order but retreat they did!
So the next time someone suggests that my Hanoverian Landwehr should be down graded as they are inferior troops, I'll be happy to oblige if he'll accept that The Imperial Guard will take a massive minus on their morale if they should come under fire, as history shows that they wont stand…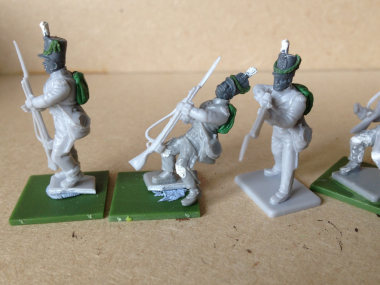 Right, tongue out of cheek now! Here's some pictures of my Hanoverians. You can see that I have modelled the cords on the shako's using green stuff and thickened up the plumes using Vallejo filler which was much more suitable for that job. Painting is now underway, and the first four are nearly finished. Just the highlighting and basing required.