It was yet another bank holiday this week so not many releases…
The new  PzKpfw IV Ausf H Panzer IV 1/72 scale Revell kit 3184 is now in stock ready for WWII battles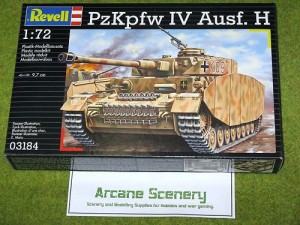 The armoured fighting vehicle Pzkpfw. IV formed the backbone of the German tank units in World War II. Between 1933 and 1945 it was built in greater numbers than any other German battle tank of the period. The H version, which for the first time was equipped with side skirts to increase armoured protection, was built from 1943 to 1944.
Model-details:
– Authentic surface details
– Movable turret with stowage lockers
– MG 34
– Side aprons
– Injection moulded tracks with individual links and segments
– Decals for two German versions
No. of parts 204
Length 97 mm
 
ummm and that's about it on new releases this week. However, Italeri have a forthcoming new release that we thought you might like to know about…1/35th scale Lend Lease U.S. Truck with ZIS-3 Gun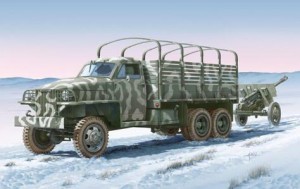 The US6 transport lorry, developed by Studebaker at
the beginning of World War II for the American armed
forces, was created with an initial lot of 200,000 in a
good thirteen versions to meet a variety of logistical
needs: troop and material transport, refuelling, and
heavy-trailer hauling. The US6 was a 2.5-Tonne class
with petrol engine and integral traction in the dual
6×6 and 6×4 configuration, guaranteeing excellent
off-road performance.
Despite the vehicle's incredible characteristics, it was used in a limited fashion by the American armed forces. The Soviet armed forces, on the other hand, used it extensively, having received from the American government in 1942 (to assist in fighting the Germans), over 105,000 vehicles in the 6×6 version and 90,000 of the 6×4's. In Russia, this
vehicle was widely used as a tractor for anti-tank ZIS-3 cannons and other OBC. Furthermore, a "Katiusha"
multi-missile launcher was added to the US6 frame.
This vehicle should be available some time in the next month, but rest assured we will let you know as soon as it is here…