Hellooooo, we have a proper Friday round up this week…oh yes you heard me right…an actual Friday round up…
Forces of Valor (or Valour if you are a British English speaker) are best known for their die-cast figures, the bossman is a fan of their 1/32 scale  die-casts. Now they have released a range of plastic vehicle kits, 8 in all, and we have the whole range. They are well moulded kits, with details of specific markings for particular troops. The boxes have divided the office Steve thinks they don't do the models justice, however, the correct side of the office likes the noir atmosphere…
We have also extended the Dapol range of railway scenery, with more wagons and platform accessories. Though not directly related to wargaming we do like the range. Not to mention that the presence of a train on your table has been statistically proven to increase your winning capability by 98% (okay so I made that up, but seriously, you need trains on your table…I don't care that you're playing Romans, they'd have had trains if they'd got round to inventing them before they all died…)
From Hobby Boss, a company with whom The Boss is so in love with that we swear if human-company marriages ever become legal… So anyway from Hobby Boss we have a HUGE tank carrier…and I mean
HUGE
The M1070 is an American tank trailer in 1/35 scale and is massive! Currently taking up a good chunk of a desk, it's a tad spendy but boy is it worth it…this will keep you plenty occupied for some time…and frankly is this not the most perfect table piece…you could buy it and have it ready for next Christmas…much better than all those mangy poinsettias. In the UK it will be post free, however, international customers should remember that because of its size we do have to send it courier, and that might be a wee bit, depending on where you live and what your currency is like against the pound at the moment.
Also new from Hobby Boss, a bit smaller but no less impressive is the RSOV Jeep and a Chinese APC.
Sticking with the tank theme, from Italeri we now have the M6 Paladin a self propelled 1.5mm artillery gun and an accessory set containing guns and ammo crates and all kinds of things.
Also from Italeri we have the somewhat unusual Spingarde and Mantel from their Leonardo Da Vinci War machines range. This model requires no glue and no paint (though you could if you fancied it a different colour) and can apparently be constructed in 30 minutes or less. We haven't tested this temporal restriction yet, mind. For those unsure as to what a spingarde and mantel is, the nice little translation on the side of the box sums it up best, its a cannon with a "shed", or for those of a more biological bent its a one legged shooting squid. And shoot it does. It actually can propel little arrows.
Not too far historically from Snr Da Vinci we have Trent Miniatures battalion packs which overall save you £12 on the price of buying the individual troops they are conveniently packaged in a neat clamshell design (okay its a VHS case), and similarly the wagons have now been repacked like this for better security of the parts.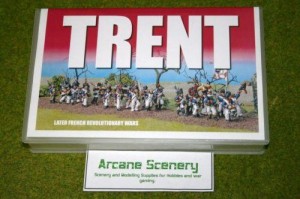 For product update fans do look out for Monday's post which will be dedicated to one new range which has been a big hit in the office.