Another eagerly awaited release has just arrived from the Russian Model Soldier manufacturer, Zvezda.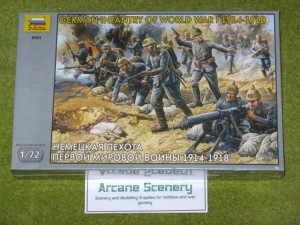 The set is of World War One German Infantry and this represents a new period for this Company. Up until now they have focused on Ancient and Historical figure sets, so it is nice to see a set from the First World War. The figures are nicely moulded and as you can see the infantry are wearing the Pickelhaube helmet and so will be suitable for the early period of the War: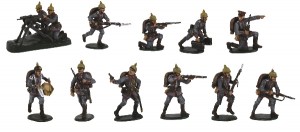 As you can see, they make nice models when painted. Here is a picture of the back of the box to show you the number and type of poses included in the set. I think that the machine gun is particulary good. The set is currently available from my ebay shop.