I mentioned that I had been distracted by the new releases from Lucid eye. Here's one of the reasons! This figure is Simian Alpha. Although he has a passing resemblance to a certain character from a  monkey film genre, he is actually the leader of the much feared Simian tribe that inhabit the Savage Core. He is the first of a small range of Simian warriors that will terrorize and hunt down those careless enough to stray into their Jungle territory.
As you can see, he is beautifully sculpted and was a real pleasure to paint. After undercoating the figure in black. I dry brushed him in various shades of grey for the fur, and used vallejo rose brown for the chest & nose. The face was done with off white, with the marking added in red.
As well as the various tribes that will inhabit the Savage Core, there will be a variety of 'Lost Explorers' or Characters. The first of these to be sculpted is 'Annalisse', an intrepid female explorer ready to take on the perils of the jungle. This figure couldn't be further from my current obsessions but sometimes a change is as good as a rest! So I took time out from my Napoleonic army and Lion Rampant retinue to paint her.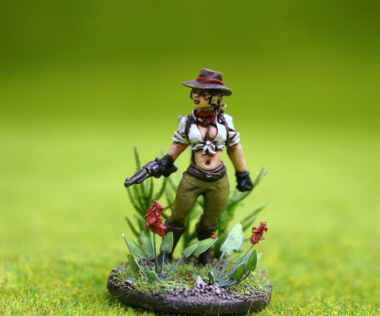 Once again, the quality of the sculpt means that it is very straight forward to paint Annalisse. I just went for fairly muted safari colours – off white for the shirt, Green Ochre trousers & leather accessories. She's based with a few Jungle plants & flowers ready to take her place in the Jungle. I'm not quite sure what I will be doing with these figures yet – at some stage a rules set for the Savage core will be available but in the meantime, I'm dusting off my copy of tooth & claw to see if I can adapt them for some Jungle Action!
With my range of DeeZee jungle beasts, I should have the basis for an interesting game. Of course it will also give me an excuse to keep painting the rest of the Lucid Eye range!