If you didn't get to see James Mays' Toy Stories last Tuesday then please go immediately to the BBC iPlayer site and watch it NOW!
I'm not sure how long the link will last, so in case you don't get a chance to catch this programme, in this episdode, James May ( of Top Gear fame) explored the wonderful world of Airfix kits. He tried to convert a group of young kids to the hobby and actually did a very good job. The grand finale was putting together a life sized model of a spitfire and showing it off to Veterans from the Second World War. It was my favourite TV show of the week and not just because James did a superb job of advertising Spitfire kits!
The show was a lovley blend of humour, nostalgia and interaction between the generation that grew up building Airfix and the Generation that spends most of their time on their mobiles & nintendos! All delivered with James May's laid back, knowledgeable charm. James explained exactly why building Airfix kits was so pleasurable to my generation; from the way that you learnt to patiently build a model and over come the challenge that each kit presented to how we used to blow them up with bangers or shoot them to bits with air rifles when we were ready to cull our collection! Oh! and you also learnt all about history along the way, as each kit came with it's own set of written instructions and facts about what you were building. I think that I have mentioned before, the instructions in every kit started with the words 'locate and cement…..'
So if you fancy a bit of nostalgia yourself, I have Spitfire kits in stock now.
The starter set is a great introduction to scale modelling as the set includes the glue, Paints and a brush. The glue comes with a precision applicator to help ensure the glue goes on the kit, not on you and the paints are acrylic and they are water based, so you can wash your brush out in water. A great present for the newcomer or those returning to the hobby, suitable for age 8 upwards.
If that isn't enough nostalgia for you, try the 'Boys Book of Airfix', subtitled 'Who says you have to grow up'. I've reviewed this item before in a previous blog entry, you can read it here. It will make an ideal Christmas present for any fan of Airfix.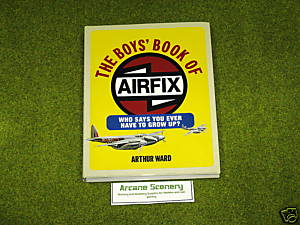 Talking of Christmas, why not do a James May yourself? How about buying an Airfix kit for one of your younger relatives and even better, sit with them on Christmas afternoon or Boxing Day and put the kit together. Make sure that you dont hog the glue and dont get too picky if theres a few badly aligned pieces! I guarantee that you both will have more fun than the usual Christmas routine of TV & snoozing on the sofa!