I've been having a few more technical hitches with the blog but I think that we are getting there slowly. So to start with, here's  a new release that I've just received, The Revell Challenger 1 Main Battle Tank.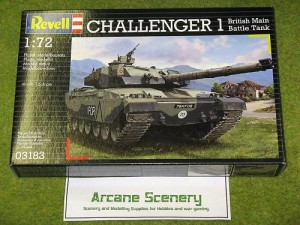 The Challenger 1 battle tank was introduced in the British Army in 1983. It has a 120 mm cannon and armour specially developed for this tank that offers outstanding protection in battle. The Challenger 1, with a weight of 62 tonnes and a 1,200 bhp engine, reaches a top speed of 56 km/h. The crew consists of 4 men. The model has attractive true-to-original surface details. Both cannon and turret are movable. Decals are enclosed for 2 versions.
Model-details:
– True-to-original surface details
– Movable cannon
– Rotating turret
– Detailed cannon
– Detailed road wheels
– Decals for 2 versions
No. of parts 129
Length 164 mm
Revell continue to grow their range of modern armour subjects, allowing you to build scale replicas of some of the most potent fighting vehicles ever produced. The Challenger kit is available for my ebay shop, priced at £9.29.