Helloooo again my dears, back from the beyond I bring thee new items. Though, where were my grapes and flowers, boys? Hmm?
We are really excited that we have new World War Two wooden buildings in 28mm. We are, as you might have guessed, completely besotted with these buildings. We loved the wild west ones and we love the world war two buildings just as much, if not more.
Also we now have lots, and lots of Strelets items. We have in our catalogue  125 items, though demand means we might not have all in at exactly the same time. The range covers some really unusual wars, and if they cover a conflict, boy do they cover it.
New from HaT , we have Zulus, tank riders, Dervishes, Indian Infantry and Highlanders in 1/72 and the 7 Years war Prussians in 1/32.
And ideal for Christmas presents and to stick on your list, Airfix Starter Kits. They come complete with paints and cement, and even a brush. So you have everything you need to start on Boxing Day. And let's face it, it isn't as if there's anything to watch on television…James Bond for the 50th time? Eastenders Christmas depression? Anyone…anyone? No, thought not. No, you need this. This and a tin of biscuits. That's Boxing Day sorted out.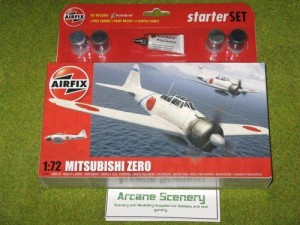 A bit of a short round up, not because we haven't got much…but because we've got so much new stock in we've got to find somewhere to put it.