Helllooooo
Welcome to our second ever Monday round up.
First in we have a rule set which is  causing much excitement in wargaming magazines and the internet: Maurice. The rules are set in the 1690-1790 period, are for 2-4 players, gaming for about three hours. Its a 10-16 unit game and features three specific scenarios in the period. The author is Sam Mustafa, who wrote Grand Armée, Might and Reason, and also Lasalle.  It allows for both small action and big scale.  Maurice is available as book and card set.
From Wargames Factory we have the WWII Infantry Platoon, from the late period. Ignore the boxes, love the figures. Really fabulous 1:56, or 28mm to those who speak in mm,  they are beautifully modelled, and make a really good quality economic means of building an army Also I  particularly like that they've listed pretty much every glue manufacturer's appropriate glue, I like this: no showing favouritism.
From Airfix we have some reissues, with fancy new boxes. There is the 1:72 Curtiss SB2C Helldiver. Which was apparently hellish (boom tish) to pilot, but destroyed more Japanese targets than any other aircraft. There is also the DHC Chipmunk T.10, which disappointingly looks nothing like a chipmunk, it is however a rather dashing 1:72 scale successor to the Tiger moth. And finally  from Airfix the Junkers Ju52-3M a rather large transport aircraft, which also doubled as a bomber.
From HobbyBoss we have the PLA ZBD-05 Amphibious IFV. They don't half like their initials those military types. If the initials don't mean much to you it is simply a tank that could go in water. we don't recommend you take this 1:35 version in the bath we should add! HobbyBoss are one of our favourite manufacturers, and this lovely tank is up to their usual standards.
From the wonderfully named HaT we have a number of new in items: British Light Infantry, Celtic Cavalry, WW1 Austrians, and rather appropriately the amazingly hatted Freikorps and Nassau Grenadiers.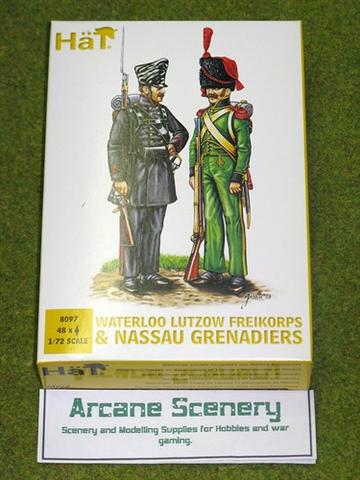 As mentioned in last week's round up the MIG buildings and teeny tiny plusmodels leaves are now here for you to buy. The resin buildings are  ideal for anywhere from 28mm to 1:48 and work well in both games and dioramas. The teeeny weeny leaves are perfect for adding colour and texture to your scenes.
Till next week!