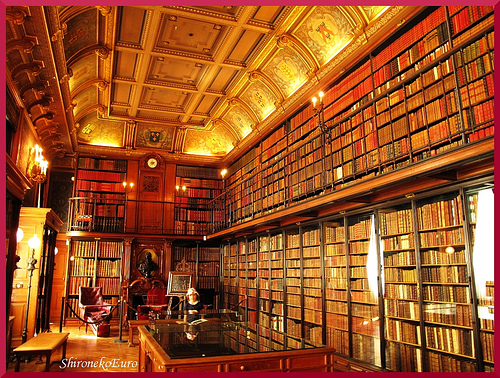 Photo Library of knowledge by ShironekoEuro 
You may have noticed that here at Arcane we like history. Actually that's wrong, we like cashew nuts, we love history. It is, without sounding too fatuous (I hope!) everywhere. We enjoy the big history that we were taught at school; the history of England via the monarchy, but nothing beyond WWI for Steve, Russia, Mormons and Northern Ireland for Lotte, and Medieval times and the Tudors that put him off for Rob. Steve, a west country boy, found the tales of Walter Raleigh accessible and engaging with visits to Plymouth, along, naturally, with acting out battles with his toy soldiers. Sadly unexciting secondary school history temporarily dampened Rob's ardour for history a bit, when Roman battles were replaced with Victorian culture and politics. Whilst my love of all things architectural and railway has kept me sufficiently interested in history long past school. One of the best resources of history is books (we love those too) so we thought we would dedicate a post to all things history books….
Places to buy
If you pay attention to our links at the bottom you may have noticed a new link to Charles Bossom's bookshop…As well as being one of Steve's longest non-wargaming friends Charles has a fabulous selection of history books in his store. Steve recently bought Wellington's Army by Haythornthwaite (amongst other items) from Charles.
Bicorn. If you like your history with a more fictional edge then you may like to try the Pennisular Wars series which Steve is currently working his way through.
Amazon. Obviously. Heck most of my house came from Amazon. However, more specifically our aStore, which is our favourite items from Amazon, generally relating to blog posts and models/kits we sell.
Our favourites….
Fictional Accounts of history
See the aStore for all of our picks 
Steve love's pretty much everything Bernard Cornwell has written, but some particular highlights for him are The Fort
,The Burning Land (Alfred the Great 5)
 and Sharpe's Tiger
 (any Sharpe book frankly!). He also enjoyed Sven Hassel's Wheels of Terror (Cassell Military Paperbacks)
 and his other books which were very popular in the seventies. Recently he enjoyed Gates Of Fire: An Epic Novel of the Battle of Thermopylae
, and his soppier side enjoys Sebastian Faulks particularly Birdsong
 and Charlotte Gray
.
My favourite historical fiction is mostly first world war focussed and I particularly love All Quiet on the Western Front
 and Pat Barker's Regeneration
 trilogy.
Rob will occasionally dabble in graphic novels (Punisher Max Volume 1: In The Beginning TPB: In the Beginning v. 1 (Punisher Max (Quality Paper))
 most recently) and we're working on introducing him to some graphic novels with a historical slant such as Alan's War
.
Non-Fictional
Steve reads lots of books on uniforms and particularly recommends: British Napoleonic Uniforms: The First Complete Illustrated Guide to Uniforms, Facings and Lace: A Complete Illustrated Guide to Uniforms and Braids
.
I really love the railway history books by Christian Wolmar and (hint, hint) am looking forward to getting to read Engines of War: How Wars Were Won and Lost on the Railways
.
Rob doesn't have much to do  with history books (not since the librarians caught him anyway), but he is the rules-meister.
We are always looking for more things to read…so what are your suggestions?