New this week in the Arcane Scenery store only (so not in our eBay store at the moment) we have new Warlord support packs of WW2 Polish troops and Russians
We also now have enough Artizan Wild West figures to recreate the Alamo in the comfort of your own home  (though we'd suggest no actual hut burning indoors) with Texians, N'orleans Greys, Mexicans and the heroes of the Alamo who strike a remarkable resemblance to Davy Crockett, William B Travis and David Bowie Jim Bowen Jim Bowie.
And forthcoming from Italeri we will have the M-3 Stuart American tank which was used in Operation Torch in North Africa. It was used on reconnaissance flanking Sherman tanks, as it's main gun was too small to penetrate the larger more substantial tanks on the other side.  It will be in 1:35 plastic kit form.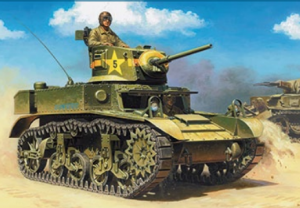 This is likely to be available in the Autumn, but we will let you know as soon as they trundle through the Arcane Scenery doors.
Also coming up from Italeri are some new scenery pieces which we thought might whet your appetite for WW2 scenes….