Hellloooo. Okay firstly I am composing this whilst hungry…so if food references creep in my sincerest etc…
We have restocks on Dalpol items, such as the rather awesome Stephenson's Rocket (oooh oooh rocket lollies, yes one of those would be good right now)…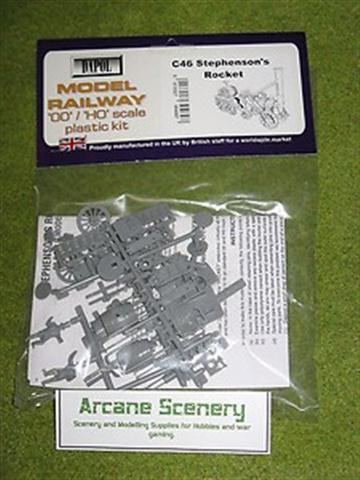 You might wonder why you should have a Stephenson's Rocket in your wargame…well firstly why the devil not? Because, you might answer, I play English civil war…and I will concede this is a fair point…but even if this little chap wouldn't suit your table it would suit your house. One of the great pieces of engineering in history, and you could have your own mini one. Come on people. Set your flags out here, what kind of man* are you? You want one, I know you do, you know you do….
(* NB-hi female readers, you are already 10% cooler by reading this you don't need to prove your nerd credentials, but as a train girl myself I think your house would also benefit from the rocket…personally I'm waiting for the day I have a garden big enough to fit a real life Deltic in)
As mentioned last week we have increased our Vallejo range to include things like this liquid mask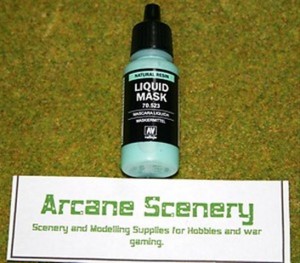 Which is ummm a mask which is umm liquid…Personally I'm rather disappointed that it isn't duck egg blue paint, which would be a rather fetching colour for a tank…
We've also got lots of Call to Arms arrived including the Union Infantry and ECW Pikemen…which sadly are nothing like pikelets, even with butter…
In the ongoing Arcane ambition to have movement trays for all occasions we have some more trays and bases…not the most exciting thing we sell but probably one of the most useful…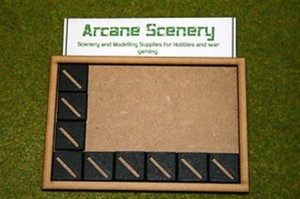 Jolly useful things…mind it would be better if it was a cake tray…
NEW new newity new from Victrix…who have lovely boxes…French Napoleonic Grenadiers and Volitiguers…The Victrix models are great for variety because you get plenty of different heads so you can have all kinds of pose/head combos on your table without much expenditure.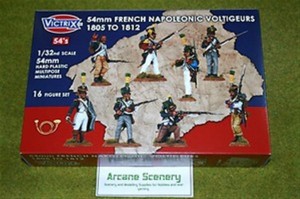 If you fancy playing something a bit less European we have the Muskets and Tomahawks rule book and cards from Saga. Rules for a range of North American colonials vs native conflicts. It is  skirmish game so you only need 50-60 figures, and Northstar are releasing figures that go with this very playable set of figures (superbly sculpted by Steve Salah). If you want to go all Last of the Mohecans this one is for you and this  great review tells you more about how good it is…
Also in the rules region we have the new supplement for Clash of Empires, the Age of Ravens. If you fancy doing some Viking pillaging then these are the rules for you, in this beautifully produced, high quality set of rules. The first run of  copies come with a limited edition figure, and we have a batch of those so buy it quick before you're the last one at the table without one.
For those of you who want to model but don't want to miss the football, or The Voice (don't worry we won't tell anyone, you were watching that not the Everton game highlights) BUT still want to be getting along with your models then we have portable paint stations. Perfect for porting about to the sitting room and then back again to wherever your paints are banished to. Coming just as the station or with four high quality tools and a mat…just don't go getting it confused with your TV dinner.
We are awash with new releases…
From the Perry's, over whom Steve goes properly gaga, we have Napoleonic Russian Infantry, Medieval Men at Arms and a Medieval Cottage. All beautifully sculpted, with excellent instructions and painting guidance. If you are a Game of Thrones fan and fancied recreating you could make use of the cottage and men at arms for exactly that. And to go with all this mediaevalism there are wattle and dawb and palisade wall sets from Renedra.
Many many Zedzva tanks and trucks in 1/35, from WW2 to present day there is sure to be one of these for every modern chap. And we have so much Italeri we can barely find Steve under it all.
Also excitement is abound as the Fire Forge knights will be with us next week
And finally from Tamiya we have a snow weathering stick…which makes your scene look suitably snowy, you could do that first world war snowfight and pop in some snowballs too…oooh snowballs with coconut….
Till next time, anon
PS-a not so anonymous wag sent this earlier in the week, we thought you should see the bossman working on his models