Hello hello hello
This week we have mostly been restocking, but we do have a few new things.
From Wargames Factory, who have moved away from the ancient world, we have 15mm WW2 German Infantry unit. We are really impressed with the quality of these products, really good sprues, and really fabulously moulded figures. However, being Wargames Factory the box art is naturally ummm, well ruddy awful frankly. I fear the artist is spending his wages on  something inappropriate judging by his pictures…BUT don't judge this by its box, the contents are wonderful.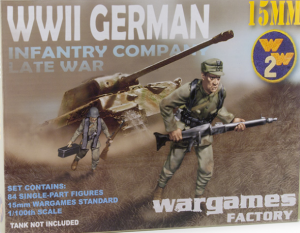 Sebastian and Heinrich ran fast when the tank from another kit invaded their box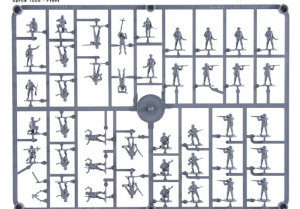 The initial test run for the YMCA actions
New to us, though not new new, is Valiant's German IF8  cart, which they snuck out, and we didn't notice. Ooops. They'll not sneak past us again though, and we are eagerly awaiting their next  German paras. Both sets are designed to work with the Rapid Fire rules set.
We also have in, and its been here a wee while but we forgot to mention it (brains not in gear) is the AFV Long Tom (insert joke of choice here). This M59 155mm 1/35 big ole gun works awesomely with the Hobby Boss tractor which would have towed the real life version. We don't have much AFV at the moment. I'm told to tell you Arcane is flirting with it, but I don't want you getting the impression that Arcane is the Rizzo  of the wargaming world.
Noticeably we have been running a little low on new things to tell you about, this is mostly because of Salute! Manufacturers, waiting to  get you all excitable and away from those who restrain your spending, are holding back till April. Steve will be attending Salute! (exclamation mark essential to build your saluting excitement) as a customer only, with Julie no doubt keeping a tight hold on the visa card.
Not the most exciting new thing, but pretty useful is our new assorted plasticard. Which is essentially like Woolies Pick n Mix, only without any of those aniseed bobbly blue and pink things, or cola bottles.
Also useful to know…Our Vallejo paints are now on our eBay store too, which you can check out anytime you like, but we'd really like you to never to leave…