We have lots of lovely new things in this week, and we have restocked to pre Christmas levels. For Italeri, Call to Arms, Dapol, Vallejo and  Zvedza if it exists we've probably got it!
From Italeri we have new the M977 Hemtt, and 1:24 Willy's Jeep…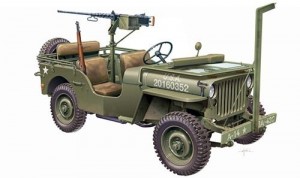 From Trent Minatures we have in the Caribbean Revolution Maroons, who were fugitive runaway slaves, with 8 in a pack. The Maroons of Jamaica eventually became Canada's first black community after they were sent to Nova Scotia, when the government's hired Cuban chasseurs captured them.
From Warlord we have (or will be having over the weekend) lots of lovely new things…best demonstrated by the medium of picture (I wanted to say modern dance but you probably don't want to see that)…
Which are (from top to bottom) Roman Slingers, Natal mounted poilce, Lord Leven, Natal caribineers, Roman Pack Mule and some rather depressed looking Roman Sentries (who look alarmingly how I imagine the drunk doorkeeper in Macbeth should look).
We look forward to helping you grow your armies over 2012!