Again we've got lots of new stock…in fact so much new stock that we can't actually fit all of it in our Friday Round Up…
First we have some restocks and new, to us, items from Strelets. For World War I fans we have lots of new Germans, Russians and British sets. Including Cossacks, Hussars, Dragoons, and Cavalry.
We have restocked on the SB Scotia range of beautifully moulded and detailed resin accessories and diorama bases. New to us are the tank traps, otherwise known as Dragoons Teeth, ammo crates and battle damaged trees. Although 1/35th scale we think they would be suitable for Warhammer 40K scenic items too.
New from Battlefront Miniatures some excellent finishing products for World War II armour. Italian, British and German Desert colours and British Italian. Ideal base colours for models for models in all scales, but specially mixed for Flames of War armour. Also new, a six colour pigment set to allow you to weather and detail your models, producing a more realistic finish. Also in Flames of War dust clouds for your vehicles for a more realistic appearance on the wargames table.  These pieces are ready painted so easy to use and ready to go! Finally from Battlefront, three new pieces of terrain from Battlefield in a Box range. Excellent, ready painted to use terrain suitable for 15mm through t0 28mm games.
New in! Wargames Illustrated Issue 289 containing features on The Peloponnesian War, the Battles of Krithia, Last Argument of Kings.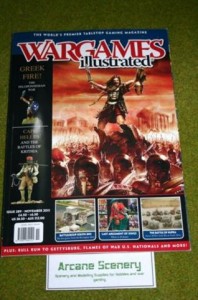 From Tamiya, our most favourite brand at the moment, we have lots of new 1/35th scale kits, including the new releases-Super Sherman. Lots of new finishing products, textured paints, special abrasive papers, masking tape and spray table.
And finally from Badger we now stock three types of airbrush. They are extremely well made and ideal for finishing tanks and models. They will be available in the shop later on today.
Have a good weekend and if you want to keep up to date with all our news join us on Facebook  and if you want to tell us about anything feel free to comment or email us.