As mentioned last week, we are now stocking Battlefield in a Box from Battlefront Miniatures. These will be in the store by the weekend, and a great for rearranging your table at a moment's notice…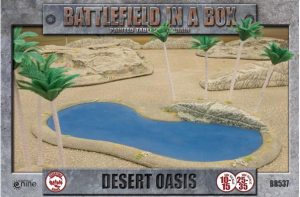 We have now restocked Imex and Pegasus models.
Imex has been unavailable to us for almost twelve months due to the manufacturer having no stock themselves! For those interested in Western items this range of 1/72nd kits and soldiers is ideal. The range covers:  The American War of Independence, The US-Mexican War (Alamo naturally included), The American Civil War, and the Wild West..yee and ha! The highlight for Steve is the Conestoga Wagon…
Pegasus highlights include a Patton Medium Tank painted like a tiger….and Pershing Heavy Tank. Both are new
All our Vallejo Paints are now listed…the colour chart is available to buy, but if you are buying a Vallejo paint you can have one free, if you stick a note on when you buy we will send one out.
Movement Trays! We have extended our range of movement trays, including skirmish trays, and we will likely be doing more of these in the future. One of our developments will be to produce movement trays for specific rule sets-watch this space!
Arcane Scenery on travels…
on 1st October we will be at Derby Wargames show, where we will have the Expo tools range, the full range of Trent Miniatures, a selection of Zvezda, and a few other surprises…
A little aside…
We thought it was worth mentioning again the two shop process that Arcane Scenery operates on. Most of the links, that we use in the blog, you will notice,  will link to our products on our eBay shop. Historically we have operated the Arcane Scenery store and the eBay store almost separately to ensure that we don't inadvertently run out of popular products by having them in two places at once. However, we are increasing our stock holding significantly and so soon will be linking more equally. There will still, from time to time, be items that are exclusive to one or the other. For UK shoppers spending under £10 the shop is post free too!
A further little aside…
If you are on Facebook, and would like to be kept up to date with all our news, please befriend our office mascot, or like our page. Or better still-do both! Our fan page is here
Louis Marchane


Create your badge

Louis is a very well behaved friend…he will only keep you up to date on Arcane news, occasionally some office gossip, cheer battle wins, commiserate battle losses and never ever fill your stream with Farmville, CityVille, whatever the newest ville is spam.