Dressed in nineteenth century uniforms, and brandishing bottles of claret, the Boondock Saints are like the Burlington Club of war gaming…charming, erudite and slightly eccentric. This virtual wargaming club (they only meet up at shows) are the Gentlemen of wargaming. With a capital G.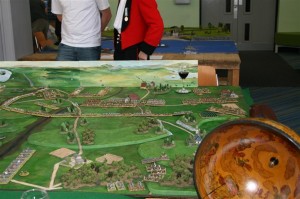 The backdrop for the Siege of Vienna was painted by the daughter of one of the members; with some very last minute additions of a town scene. 
The table as a whole is designed to look like an eighteenth century painting, slightly angled and viewed from above. They don't use turf and flock on the ground cover, its a very traditional flat painting.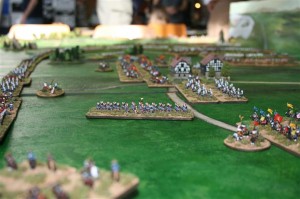 Many of the figures have conversions and additions made (and these are 6mm figures so that's some tiny work!). The cavalry have shields added, some other troops have turbans added by hand, and the Turks have been cast and sculpted by hand.
The Boondock Saints were waiting to see if they were going to win a third trophy in a row from Derby. On the evidence that we saw, they certainly deserve to be contenders!
If you have a demo game that you would like to share with us, or a club that you would like to feature, please feel free to email the information to us.