Kevin's project is of the landings at Fenit during the Irish Civil War. He saw a photograph of the bay and decided he had to make it! He has planned the project so the pieces are as reusable as possible, so that when he decides he wants India not Ireland he can make use of Fenit bay.
Whilst going around the show with my camera in tow Kevin's project particularly appealed to my not so inner train geek side because it had not only a rather lovely ship, but trains…
Kevin used N gauge buildings for his layout.  He has made the layout as modular as possible, but confesses he is still working out the edges of the modular parts.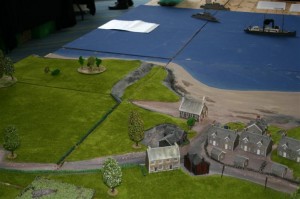 All in all it's a really lovely layout!
We think that this board is a great demonstration of how a really creative playing board can add another layer to any period that you play. Great scenery just draws you in…let us know about your board designs in the comments or by emailing us at arcanescenery@gmail.com.