Staying with our Napoleon theme this week our battle for today is the Battle of Castiliogne which took place 5 August 1796.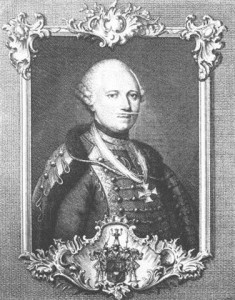 The charmingly named Dagobert Sigmund von Wurmser of Austria, (whom I am half tempted to call Dogbert ) led the first Austrian effort in breaking the Napoleonic army's siege of Mantua.
Bonaparte's army had, in May, defeated the Austrians at the Battle of Borghetto who then retreated north toward Trento. On their way the Austrians had garrisoned the Manuta fortress.
After an initial failed attempted the French then successfully sieged the fortress, and the Battle of Castiglione was the first in several efforts to break the siege.
Twenty thousand of Wurmser's troops were at Castiglione by 5 August and they were divided into those on the right near Solferino and those on the left at Monte Medolano.
Bonaparte had a troop of five thousand approaching the rear of the Austrian forces' left flank. Then the two larger troops ahead of the Austrians were ordered to retreat, and Wurmser's men (somewhat daftly) moved into Napoleon's trap.  The forces at the rear then set to attack the Austrians and they moved their defences thattaway, which left them open to being attacked. Which of course they were. First by horse artillery and then by grenadiers.  Only thanks to cavalry were the Austrians able to retreat back across the Mincio.
Map from: Gregory Fremont-Barnes – The Encyclopedia of the French Revolutionary and Napoleonic Wars, page 216. Adapted from Chandler 1966, 197.
Though the Austrians lost 3,000 men in that battle alone, and over sixteen thousand overall, they did, for a short while at east take back the fortress. Though the French regained it at the end of August and held it until the following February