Last week we looked at the strong words thrown around in war, this week back to a more obvious weapon.
On March the 14th 1943 the Barnes Wallis designed, Vickers made, Grand Slam made its début over north west Germany. The opening of the Grand Slam's war career (temporarily) ended the almost hundred year career of the Schildesche viaduct and its railway lines, the Bielefeld viaduct and fifty people. Who presumably had not expected 22, 000 pounds of explosive to land on them when they woke up that day.
The work of the Grand Slam, and a series of unemployed Tallboys.
The Grand Slam was something of a 'new improved' version of the Tallboy bomb, which at a mere 12,000 pounds was more like a  game of Pooh Sticks than the genuine earthquake effect that the Grand Slam afforded local residents. This giant bomb with a tail measuring over 13ft alone, was carried by the biggest of the aircraft.
The Lancaster Arvo and the Boeing B29
The huge Lancaster, much beloved of the RAF, and the even huger Boeing B29 Superfortress much beloved of the USAF for whom apparently there is no such thing as too big.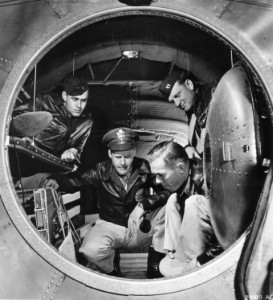 The B29 boys regularly enjoyed a game of guess the carpet stain.
Here comes the science part…
This is what's in your weekly dose of Grand Slam …1,3,5-Trinitro-1,3,5-triazacyclohexane and 2,4,6-Trinitromethylbenzene…and a pinch of aluminium
From 1943 to the end of the war 42 Grand Slams were dropped, and it was an essential part of the aerial attack kind of war that World War 2 was shaping up to be.
The Grand Slam though big, was nothing in terms of damage compared to some other bombs…
The most famous B29 ever is the song inspiring Enola Gay, and her payload Little Boy.
The Enola Gay after her most famous mission, and her crew.
Its often said that doctors, soldiers and mortuary workers have the darkest sense of humour. You can probably add bomb designers to that list. Little Boy may only have weighed a mere 9,700 pounds , making it indeed diminutive next to the likes of the equally far-too-jolly-named Grand Slam, but there was nothing little about what it did.
Little Boy
Coming from the Manhattan Project this little bundle of Uranium 235, and its chunkier brethren Fat Man containing Plutonium brought a whole new style of warfare to the end of the second World War.
Though, for some fairly sensible reasons, bombing doesn't play a particularly big role in wargaming you can make several of the aeroplanes that carried them…so what's your favourite?